About JST
Interview with the President
FY2016
Oct 2016
Japan Science and Technology Agency (JST) commemorated its 20th anniversary this October. Japan Science and Technology Corporation (the name at that time) was founded as JST in October 1996 through the merging of Japan Information Center of Science and Technology (JICST) and Research Development Corporation of Japan (JRDC).
These 20 years have been turbulent both domestically and abroad. Since Japan's first Science and Technology Basic Plan began running at the time of JST's foundation, we've assumed a role as the core institution to implement the country's science and technology policies in accordance with the plan. We've brought science and technology achievements and society together by promoting innovation, using diplomacy in science and technology, and advancing reconstruction after the Great East Japan Earthquake. We've also pursued unique approaches to making our country a place where people can feel more hopeful and training future scientists.
We provided R&D funds dedicated to generating induced pluripotent stem cells (iPS cells) as well as to developing and commercializing blue light-emitting diodes (LEDs) for a long time, work that was awarded two Nobel Prizes. Last year we ranked third in the Reuter ranking "Top 25 Global Innovators – Government."
What contributions do we need to make now in order to continue promoting the global trend of innovation, utilizing science and technology for society, and enriching people's lives? President HAMAGUCHI will share his thoughts on these topics.
May 2016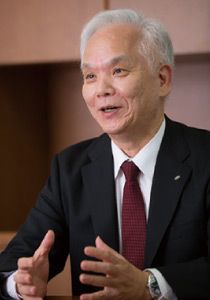 JST has finalized the Hamaguchi Plan, in which the organization envisions its future and strives to promote R&D in Japan. I asked JST President HAMAGUCHI about his thoughts on and goals associated with this reform plan, which bears his last name (interviewer: YAMASHITA Reiji, Public Relations Division, JST).
FY2015
January 1, 2016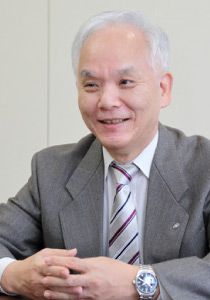 A new year has just begun and it has been nearly five years since the Great East Japan Earthquake. We will start to implement the new policies under Japan's fifth Science and Technology Basic Plan over the next five years, while further promoting the future. And JST will be commemorating its 20th anniversary. At the start of this year, which due to the aforementioned events represents a significant turning point, I interviewed Dr. HAMAGUCHI Michinari, the new President of JST, who assumed the office this past autumn. He spoke about close collaboration with universities, promotion of policies and development of personnel in the information age, revitalization after the earthquake and disaster risk reduction, and diversity in the workforce and new value. The passionate way in which he spoke was reminiscent of a clinician, which is his former profession. It appeared as if he had calmly observed the relationships between society and science, considered ways to improve JST's structure, and carefully prepared for accurate diagnoses and prescriptions. (Interviewer: ASABA Masaharu, science journalist)