The seminar on forensic interviews was held for the press at Ritsumeikan University on May 10, 2018, with the cooperation of the Japan Science and Technology Agency (JST). During the seminar, entitled "Usability and necessity of forensic interviews—From 10 years of research activities," Prof. Makiko Naka (Ritsumeikan University) talked about her 10 years of work, including seven years working on the R&D project* under the RISTEX.
Forensic interviews require techniques which successfully elicit accurate testimony from children who witness or are affected by abuse, a sexual crime, or bullying, while minimizing the burden on children as much as possible. Prof. Naka has been tackling research on interviewing techniques based on scientific grounds and development of training programs that promote multidisciplinary collaboration.
The press seminar provided an overview of forensic interviewing techniques, which are developed based on psychological research on children's recognition, memory, and testimony. Following this, it covered the effectiveness of training, and discussed the current situation and issues of forensic interviewing in Japan. Prof. Naka has contributed to the dissemination of forensic interviews by leading training with cumulative participation by 8,000 practitioners of law and welfare over a period of 10 years. In the Q&A section, hope was expressed for a new approach to forensic interview techniques, such as use of techniques for investigation of bullying at educational sites.
【Press Seminar Outline】
Title: Usability and necessity of forensic interviews—From 10 years of research activities Contents
1."RISTEX—R&D programs seek solutions to specific social issues" Hiroshi Tsuda, Director, Department of Planning and Management, Research Institute of Science and Technology for Society, JST
2."Usability and necessity of forensic interviews—From 10 years of research activities"  Makiko Naka, Professor, Ritsumeikan University · Comprehensive Psychology
【Reference

*

】
-Research area: Protecting Children from Crime R&D Project: Training Program for Video Recorded Interview with Children in Forensic Context (2008-2012)
-Research area: Creating a Safe and Secure Living Environment in the Changing Public and Private Spheres R&D Project: Development and Provision of a Training Program to Foster the Use of Forensic Interviews by Multidisciplinary Team (Started on November 2015)
【Links】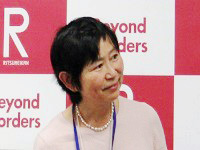 Prof. Naka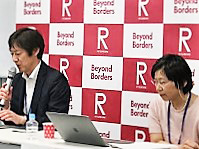 Director Tsuda (left), Prof. Naka (right)