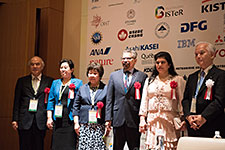 JST hosted the Gender Summit 10 – Asia Pacific 2017 by cooperating with the Science Council of Japan and Portia Ltd., U.K. at Hitotsubashi Hall, Tokyo, on May 25 - 26, 2017.
The Gender Summit is a global platform where scientists, policymakers, gender scholars and various stakeholders discuss and improve the quality of research and innovation by embedding the perspective of gender in science. The Gender Summit started in Europe in 2011 and is being held around the world since then. It was the 10th Gender Summit to be held for the first time in Japan.
The Summit was a great success with the support of 114 organizations, including 23 governmental bodies, such as Ministry of Education, Culture, Sports, Science and Technology (MEXT) and Ministry of Economy, Trade and Industry (METI), the Cabinet Office, Keidanren (Japan Business Federation), the Japan National Committee for UN Women, and Japanese National Commission for UNESCO, as well as 83 business enterprises, universities, and organizations. Over 600 people from 23 countries and regions participated in the Summit in 2 days.
At the Opening Session, Her Royal Highness Princess Sumaya bint El Hassan, Jordan, Mr. Toshiei Mizuochi, Vice-Minister of MEXT, Dr. B. Mario Pinto, President of Natural Sciences and Engineering Research Council, Canada, Prof. Ruiping Gao, Vice President of National Natural Science Foundation of China, and Dr. Kimiko Murofushi, President of Ochanomizu University have delivered opening remarks.
Under the main theme "Better Science and Innovation through Gender, Diversity and Inclusive Engagement", 4 Plenary Sessions were held. At the Plenary Session 1 "History and Future of Gender and Diversity", Dr. Chieko Asakawa, IBM Fellow, IBM Research, made a speech about the innovation ignited by the accessibility, Prof. Angela Leung, Director and Chair Professor of The University of Hong Kong, delivered a speech about the history of correlation between Confucianism and gender roles in East Asia, and Prof. Juichi Yamagiwa, President of Kyoto University, gave a discourse on gender roles in the evolutionary history of animals.
Presentations and panel discussions took place in other Plenary Sessions under the themes of "Female Researchers Tackling Global Serious Issues", "Gender-based Research and Innovation" and "Social Responsibilities of Science", and 6 Parallel Sessions, including "Benefits from Women's Participation in Science, Technology and Innovation", "Promotion of Gender Equality by Improving Access and Use of Researcher Database", "Developing Evaluation Methods for Diversity in Research", and "Equal Opportunities for Women & Men in STEM Education".
Themes of 'Gender Dimensions in Sport' and "Gender Equality from Perspective of Men and Boys" in 2 Parallel Sessions were the first-time to be discussed in the Gender Summit, and Mr. Daichi Suzuki, Commissioner of the Japan Sports Agency, made a presentation of gender perspective towards the 2020 Tokyo Olympic and Paralympic Games.
At the last Plenary Session, "Gender Summit Tokyo Recommendation - Better Research and Innovation through Diversity and Gender Equality: BRIDGE" was released as the fruit of the Gender Summit 10. It is composed of 3 viewpoints as follows:
1. Gender equality is an essential determinant of societal sustainability and wellbeing and affects how science, technology and innovation can improve people's lives. It is realized through interventions to create equal opportunities between women and men; and implementing scientific understanding of gender, and of related differences, as important and intersecting factors in creating societal benefits for all. Bridge Gender and STI
2. Gender equality should be integrated into the implementation of all 17 SDGs, because gender equality within science, technology and innovation provides a BRIDGE through which targets of all 17 SDGs can be connected to enhance implementation success of the UN SDG agenda. Bridge SDGs
3. Gender equality in the context of SDG targets must recognize the influence of human and societal diversities, and, in particular, how science and societies define and BRIDGE the roles and attitudes to women, girls, men, boys, ethnicity, race, cultures etc. Gender Equality 2.0 should be adopted by all stakeholders, including industry when planning and implementing actions to achieve sustainability. Bridge all People
The detailed report of the Gender Summit 10 will be provided on our website at a later date.