Mr. Shinzo Abe

Dr. Mamoru Mohri

Prof. Kenichi Kawarabayashi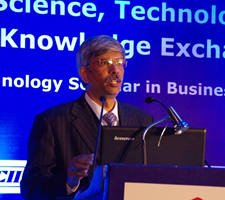 Dr. Arabinda Mitra
Japanese Prime Minister Mr. Shinzo Abe paid an official visit to india from January 25 to January 27, 2014. Japan Science and Technology Agency (JST), together with JETRO, Embassy of Japan, CII, FICCI and ASSOCHAM, hold "The Science and Technology Seminar in Business and Academia" (STSBA) on this occasion and Mr. Abe also attended to make remarks.
JST President, Dr. Michiharu Nakamura made a keynote speech at the plenary session, emphasizing JST's initiatives to create innovation from top science in comprehensive manners in the 21st century, a century for Asia. Afterwards, "Technology in Business" session and "Science, Technology and Knowledge Exchange" session were conducted concurrently. JST organized the latter session and approximately 90 people, students, young researchers and others who are interested in research collaboration with Japan, participated.
******Program for "Science, Technology and Knowledge Exchange" Session******
Session Introduction
Mr. Sadayuki Tsuchiya, Deputy Minister of Education, Culture, Sports, Science and Technology, Japan
Special lecture 1
Dr. Mamoru Mohri, Astronaut and Chief Executive Director of Miraikan, Japan
"Reducing Stress on Earth's Life - How Japanese Science and Technology Contribute the Future–"
Session 1 "Breakthrough from Most Advanced Research Infrastructure"
Prof. Naohito Saito, Institute of Particle and Nuclear Studies, High EnergyAccelerator Research Organization, Japan
Deputy Director, Japan Proton Accelerator Research Complex (J-PARC) Center, Japan
"Cooperation between Japanese and Indian Physicists in Particle and Nuclear Physics Research at KEK"
Prof. Milan K. Sanyal, Director, Saha Institute of Nuclear Physics, India
"Indian Beamline at Japan for Material Research using Synchrotron X-ray Scattering Techniques"
Special lecture 2
Prof. Kenichi Kawarabayashi, National Institute of Informatics, Japan
Research Director, JST ERATO "KAWARABAYASHI Large Graph" Project, Japan
"Large Network: Mathematical Analysis and Efficient Algorithms"
Session 2 "Attractive Research in/with Japan"
Prof. Hiroyuki Yamato, Executive Vice President, The University of Tokyo, Japan
"The University of Tokyo -World Leading Research and Innovation and Cooperation with India-"
Prof. Yoshihiko Nakatani, Ritsumeikan Global Innovation Research Organization, Japan
"Creating a Future through "Beyond Border" Research"
Dr. Kailash Manda, JSPS fellowship alumnus, Institute of Nuclear Medicine & Allied Science, India
"Indian JSPS Alumni Association as Science Bridge between India and Japan"
Special Greeting
Ms. Asako Omi, Secretary General, STS Forum
Wrap-up
Dr. Arabinda Mitra, Adviser & Head, International Bilateral Cooperation, Department of Science and Technology, India
Closing Remark
Mr. Shinzo Abe, Prime Minister of Japan
**************
Mr. Abe stressed the importance of promoting research cooperation, academic exchanges between the two countries.
Mr. Abe and Dr. Manmohan Singh, Prime Minister of India, later on announced a joint statement as follows:
"They expressed satisfaction at holding of the Science and Technology Seminar in Business and Academia (STSBA) with the attendance of eminent scientists and business leaders from both countries on the occasion of Prime Minister Abe's visit to India and expressed their expectation that further collaboration in science, technology and innovation will be facilitated. "
JST is aiming to strengthen the relationship with India, regarding it as one of the most important partner countries.