Promoting Technology Transfer and Innovation
http://www.jst.go.jp/tt/EN/index.html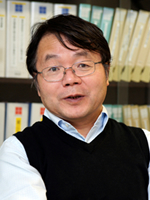 Professor Hideo Hosono of Tokyo Tech's Frontier Research Center was honored with this year's Excellence Award given by Nikkei Business Publications (Nikkei BP) at their 12th Japan Innovators Award. The Japan Innovators Award seeks to recognize those who stimulate Japanese industry with their original ideas, technologies or business models and who create something with universal value, thereby boosting Japan's international presence. The award committee looks for candidates who have opened up new markets with their ingenious ideas, who have already achieved internationally recognized results in the fields of science and technology, or who have applied fundamental technologies to create innovative products and services. Award candidates are sought from a broad range of fields based on the commendations of readers and editorial teams at Nikkei BP. It is also possible to nominate oneself. Each year recipients are selected for the Grand Prize, the Excellence Award and the Special Award.
Professor Hosono developed a semiconducting material, IGZO (Indium Gallium Zinc Oxide), which greatly contributed to the creation of new technologies for flat-panel displays that are more energy efficient and higher in definition. IGZO is used internationally by manufacturers of products such as tablets, which command large market shares worldwide. Professor Hosono's technological innovations, including the discovery of iron-based superconductors, are highly recognized and led to the Japan Innovators Award.
- Professor Hosono's Comments -
I was surprised by the honor. I presume that journalists recommended me. IGZO is one of the outcomes of two projects sponsored by Japan Science and Technology Agency (JST): the Exploratory Research for Advanced Technology (ERATO) Project and the subsequent ERATO-SORST Project. I would like to convey my sincere appreciation to Dr. Kenji Nomura of Qualcomm Inc. (former researcher at Tokyo Tech's Frontier Research Center), Professor Toshio Kamiya of the Materials and Structures Laboratory, CANON researchers with whom we conducted collaborative research in the early period, and the staff at JST's Center for Intellectual Property Strategies for patent licensing.