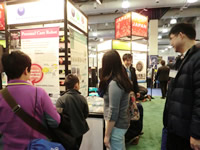 The Japan booth
The 2013 Annual Meeting of the American Association for the Advancement of Science (AAAS), the world's largest general scientific society and also known as the publisher of the journal Science, was held at Hynes Convention Center in Boston, USA. At this meeting, JST participated in running an exhibition booth named the "Japan booth" jointly with the following organizations (in alphabetical order):
Comprehensive Special Zone for International Competitiveness Development in Tsukuba
High Energy Accelerator Research Organization (KEK)
Japan Agency for Marine-Earth Science and Technology (JAMSTEC)
Japan Atomic Energy Agency (JAEA)
Japan Society for the Promotion of Science (JSPS)
JEOL Ltd.
RIKEN
World Premier International Research Center Initiative (WPI)
In the Japan booth, each of the above organizations introduced their activities and output of research and development through panels and images in order to provide information related to Japanese science and technology from various points of view.
There were about 1,100 visitors to the booth during these three days. In particular, Boston being widely known as a "university town" with numerous colleges and universities located within and around the city, including Harvard University and Massachusetts Institute of Technology (MIT), there were many students and researchers coming to the booth successively.
To introduce JST, in addition to the overview of JST activities, panels showing specific funding programs relevant to international collaborative research (SICP, SICORP, SATREPS, etc.) and the Center for Low Carbon Society Strategy (LCS) were used to inform visitors about initiatives taking by JST. We are confident this occasion serves as a good example with a view to actively pursuing efforts to provide information to overseas countries.
The next Annual Meeting of AAAS will be held in February 2014 in Chicago, USA.