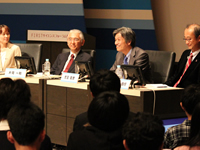 Researchers answering candid questions from youth participants.

Free communication time between researchers and young participants after the forum.

Exhibition booths presented by 18 institutions among those supported by the FIRST program.
The first session of the Third Science Forum of the FIRST Program was held in the Tokyo International Exchange Center, Tokyo Odaiba Waterfront, on Sunday, November 11, 2012.
This forum is aimed at contributing to the aspirations for science of young people. For this purpose, some among the core researchers selected in the FIRST program* gave presentations on their research themes and outcomes intelligible to the participants, mainly high-school students. The forum also featured the interactive communication between young participants and top-level researchers in discussing not only the contents of the research but also the personal side of researchers, such as how they actually conduct the research, how they developed their careers, and others.
Over 200 persons were assembled in this session, more than a half of which were high-school-age students. In answering the candid questions from young participants, researchers attended emphasized the importance of acquiring the broad and basic knowledge of not only science but also other disciplines and developing the competence in problem solving. Together with other suggestions during the session, Professor Kataoka (The University of Tokyo) recommended young attendees to keep themselves optimistic, Professor Osakabe (Hitachi, Ltd.) passionately talked about the importance of dreaming, while Professor Kodama (The University of Tokyo) invited them to try to further develop their own strengths.
The next session of the Third Science Forum will be held in Nagoya, on Sunday, January 27, 2013. For details, please refer to the following website (only in Japanese).
The 3rd Science Forum of the FIRST Program: http://www.jst.go.jp/first(only in Japanese)
*The Funding Program for World-Leading Innovative R&D on Science and Technology (FIRST) is a R&D program promoted by the Council for Science and Technology Policy (CSTP), Cabinet Office, Government of Japan. This aims at reinforcing Japanís global competitiveness in wide spectrum of fields from basic research to R&D topics leading to near-future industrial applications. With 30 projects selected, its goal is to gain the top leadership position in the world within five years in each field.