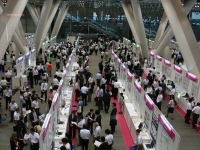 Many seeds of technology were also put on display at the 2011 University Fair.
"Innovation JAPAN 2012" was held at the Tokyo International Forum (Yurakucho, Tokyo) on September 27 and 28.
The "Innovation JAPAN 2012 – University Fair" which will be a part of this event will be held for the 9th time, and the results of 300 of the best researches being carried out at universities and other institutions, chosen by JST, will gather under the one roof for this occasion.
The areas of research covered in the university fair will vary widely, ranging from "telecommunications" to "life sciences," "medical treatment," "equipment and devices," "nanotechnology," "environmental preservation and cleaning," "low carbon energy," "material recycling," "life of the elderly (aging society)," and "disaster prevention."
Exhibitors will also hold five-minute "JST Short Presentations" in the JST booth in the center of the exhibition hall to advertise the details of their research, and drive the promotion of industry-academia match-ups.
The probability of match-ups at these events developing into collaborative research climbs to 20 to 30% every year.
Go to their website (http://www.innovation-japan.jp/
) to register your participation or for more details.
This article is translated from "JSTnews".