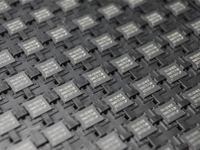 May 29, 2012 — Trigence Semiconductor, the inventor of Dnote® full digital audio signal processing technology, announced it has received investment from Intel Capital, Intel's global investment organization. Japan Science and Technology Agency (JST) has been supporting Trigence Semiconductor since FY2009 by the funding program A-STEP (Adaptable & Seamless Technology Transfer Program through Target-driven R & D), which is known as a kind of Japanese funding program. A-STEP promotes industry-academia collaborative R & D based on the research output and the intellectual properties generated by basic research. Details of the investment were not released.
The Dnote technology uses digital signals to directly drive multi- coil speaker compare to conventional single coil with analog signal. The company claims that Dnote, its proprietary Digital Signal Processing technology, enables reduced power consumption and higher quality audio through its method of digitally driven analog speakers. (See attached picture)
Trigence's technology has been licensed to Japanese car-audio and amusement game manufacturers and the company also sells DSP chip that is supported by JST and implemented their Dnote technology.
The company has developed digital audio technology for use in consumer electronics, personal computer and automotive applications.
This time, because this company is evaluated highly by the global enterprise, it is consistent with the intent of A-STEP that supports small and medium-sized and the venture company of the research and development type. The company's activity is highly expected the acceleration of technological development and the expansion of the business for the future.
*Dnote® is a trademark of Trigence Semiconductor in the United States and other countries.
JST, an integrated organization of science and technology in Japan, establishes an infrastructure for the entire process from the creation of knowledge to the return to the society. For more information, visit