International Symposium on Multi-Scale Dynamics of Protein Complex Formation and Function was held from July 14 (Tuesday) through July 16 (Thursday), 2009 at the Sanjo Conference Hall, The University of Tokyo in Bunkyo-ku, Tokyo, and lectures were delivered by 22 researchers from Japan and abroad.
This symposium was held by JST-CREST's policy on promoting globalization. The purposes of this symposium were to clarify the leading edge of protein complex formation and function mechanism research and current problems, as well as to disseminate the achievements of CREST research area "High Performance Computing for Multi-scale and Multi-physics Phenomena" by the Kitao team to both Japan and abroad, to deepen the discussions on leading edge research of this field, and to build a new research network.
The lectures were delivered by members of the Kitao team and front-line researchers of this field from both Japan and abroad; and 63 persons (including 7 invited lecturers from abroad) participated. The contents of the lectures were leading edge research results which ranged from predictive simulation (docking) of protein complex in coarse graining level to 3-dimensional refinement, solvent effect which plays an important role in complex formation, development of multi-scale simulation method to clarify the molecular function of complexes and the functional mechanism that applies this method. Also, active discussions were held on the development of further research in future, such as solving the problem like the structural change in complex formation, which was difficult to fully consider up until now. In particular, regarding the possibility to apply the free energy calculation method, which was developed through CREST and adequately considered the solvent effect that has been insufficient up until now to solve complex formation problems, hopes have been raised that it will have a significant impact in future researches of this field.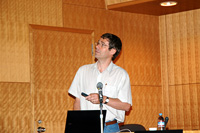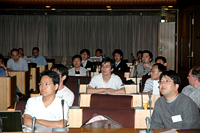 JST, an integrated organization of science and technology in Japan, establishes an infrastructure for the entire process from the creation of knowledge to the return to the society. For more information, visit