Research Project (2007-2009): Creation of a Collaborative Platform for Science, Diplomacy and Security
The international community today confronts a variety of global security challenges including, global warming, energy issues, infectious diseases, natural disasters, population growth, starvation, food security, cyber security, terrorism, transnational crime, and proliferation of weapon. It becomes essential for every nation to tackle the transnational security challenges under close international cooperation. Accordingly the role of science and technology to address these challenges has increased its significance profoundly.
Japan needs to contribute to making the world safer and more secured by fully taking advantage of its science and technology prowess. By transforming Japan's scientific and technological edge into its "smart power", Japan is expected to strengthen its diplomatic power and international presence.
There remain many potential areas where Japan can utilize its capability for science and technology to the maximum extent for the benefits of global security as well as Japan's own diplomacy and security.
The aim of this project is to provide a collaborative platform between science and technology community and diplomatic/security community in Japan to think through appropriate policy and a framework to ensure effective domestic/international collaboration thereby utilizing Japan's scientific and technological edge to address global security challenges.
This project has forged domestic/international networks among government officials, universities, research institutions, private sector, and NGOs, and developed a platform to share information and best practices, and to explore collaborative opportunities among the partners in many countries.
RISTEX has rich experience and expertise in promoting R&D targeted to addressing various societal problems, and in creating a platform among stakeholders to transform research products to policy tools for these problems. RISTEX will make the full use of these experiences, expertise, and networks for diplomacy and security, both nationally and globally.
Issues covered by the project
The project will work towards creating a platform for collaboration to discuss following issues:
What sort of science and technology is required in order to deal with global security challenges? What sort of domestic/international collaboration structures and measures are needed for promoting R&D and transitioning the S&T products?
In order to fully utilize Japan's scientific and technological prowess, what strategies are necessary for Japanese diplomacy and national/global security?
What sort of governance structure is needed in order to prevent the misuse of science and technology that could results in harming mankind, animals, and environment?
Planned activities
Developing a platform for collaboration between the relevant stakeholders in Japan.
Encouraging cooperation with overseas policymakers, research institutions and research networks, forging an international network.
Bringing all the stakeholders such as scientists, policymakers, private sector and NGOs, and forging multi-level network.
Hosting events with overseas organizations and experts.
Making policy recommendations, sharing and disseminating information, etc.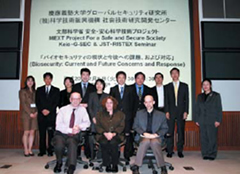 Joint seminar with Keio G-SEC on Bio-security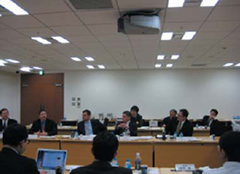 Expert meeting with the FBI