Implementation-Support Program (R&D results integrated Type) (2013- )
Program Outline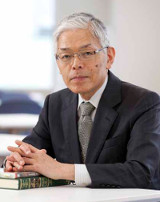 Program Officer: Tateo ARIMOTO
Professor, The National Graduate Institute for Policy Studies (GRIPS)
The Research Institute of Science and Technology for Society (RISTEX) supports a range of R&D projects with the aim of yielding outcomes that will help resolve social problems that we and our society in the 21st century face, including issues involving the environment and energy, aging society, safety and security, and sustainability. With the aim of implementing R&D outcomes in society, programs in the R&D focus area have strategically solicited and adopted projects, accumulating R&D outcomes aimed at resolving social issues, and creating comprehensive outcomes within the focus area through area management that encourages coordination among projects at the R&D stage.
The Implementation-Support Program (R&D Results Integrated Type)--which started in fiscal year 2013 to handle consolidation of outcomes--integrates and consolidates multiple R&D outcomes produced by R&D focus area programs promoted by RISTEX, and supports initiatives that implement these outcomes in society. (support period of 3 years.) By consolidating, or packaging, multiple outcomes, instead of limiting itself to the implementation of individual outcomes, it is hoped that each solution's effectiveness, and the quality and speed of its deployment in society, can be improved.
Before the outcomes of R&D can reach society and the market, the stages of research, development, demonstration, and diffusion must be gone through. Knowledge and technology are applied / demonstrated in society, and, if they are not ready to move on to the next stage, the process returns to development. This cyclic process is the key to implementing R&D outcomes in society. It is essential that politicians, industry, academia, government agencies and local residents carry on a dialog and collaborate in the actual environment and society in which they are active, with diverse people, schemes, and systems interacting, and with the aim that outcomes will be produced that help resolve issues confronting society and that the utilitization of those outcomes in society will be sustained.
This program prioritizes implementation activities performed on the basis of cooperation and collaboration with stakeholders in order to promote the transfer and application, and the deployment in society of outcomes that continue to expand beyond the original regions and organizations after implementation support has ended. Furthermore, it actively consolidates and integrates outcomes that transcend the framework of the RISTEX R&D focus area.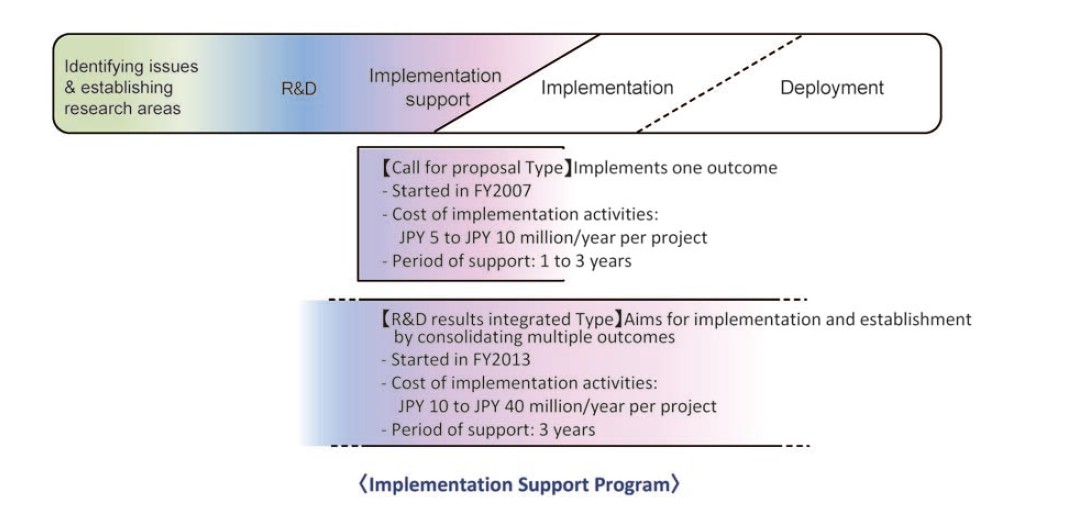 Message from the Program Officer
RISTEX developed its own operational methodology based on integration of knowledge from the humanities and social sciences and natural science and on collaboration with stakeholders. This methodology covered the whole process from the design stage of R&D focus areas to the solicitation and adoption of projects and the promotion of R&D. The first two R&D focus areas established based on this new methodology finished in fiscal year 2012. High praise has been received for the fact that, rather than limiting itself to only analytical and theoretical research, it produced outcomes relevant to actual local circumstances and society by prioritizing practical research conducted through collaboration with stakeholders, creating scientific knowledge and methods that contribute to the resolution of societal issues.
However, these outcomes are little more than the first budding results, demonstrated in society in a limited area and in a limited period of time. A new framework is required in which the outcomes that have been produced and the networks that have been developed will continue to be built upon, implementation activities will continue and extend without program assistance, and deployment in society will be assured. It is still the case that in general, researchers' implementation activities are not highly rated by academia. We believe that by actively supporting consistent social implementation activities from R&D, the evaluation of implementation activities will change, fostering this capability in the next generation of researchers.
This is a new challenge. We aim to put into practice "science for society" with the aim of resolving social issues by using a 'bridge' that spans science, technology, and society--beyond the boundaries of focus areas to R&D and implementation.
Project
Project Name
Length
Project Director
Affiliation
FY2013
Collaborative Activity Support for Safe School and Community Based on International Standards
3yrs.
Toshiya YAMAMOTO
Representative Director, Community Design Partners for Children's Safety / Professor, Meiji University, Faculty of Science and Technology
Investigation into an alternative process for agenda building in science & technology issues
3yrs.
Mikihito TANAKA
Associate Professor, Graduate School of Political Science, Waseda University / Research Manager, Science Media Centre of Japan