Overview of Activities & Organization

 RISTEX conducts R&D programs with the aim to produce and promote innovative solutions to the issues that human society confronts. Such issues include the eff ects of global warming, aging population and declining birthrate, and improvement of safety and security.
 To gain practical wisdom and methods that will lead to solutions to social issues, RISTEX values transdisciplinary research, which is carried out by researchers from various fields, practitioners and other stakeholders. In addition to the R&D programs , RISTEX runs programs to support implementation and outspread of the R&D results into society.
Orgnization
Under the leadership of the Director General, RISTEX conducts R&D on technology for society within JST's Strategic Basic Research Programs system, and is also involved in administration related to other R&D. The chart below shows RISTEX's organization as of July 2016.
RISTEX sets themes and goals("R&D Focus Area" or "Program") aiming for the outcomes to solve specific

social issues,

. Each R&D Focus Area or Program is supervised by an Area or Program Director .Under his/her management, each Focus Area or Program promotes R&D projects and conducts various activities to achieiving its goals .
The Implementation-Support Program supports initiatives (implementation activities) for implementing and utilizing the outcomes of publicly funded R&D to resolve specific social issues. "Results Integrated Type " was launched in 2013 for consolidating and integrating (packaging) multiple R&D outcomes from its R&D focus areas and programs so as to facilitate the implementation of these outcomes in society.
In fiscal 2014, RISTEX made use of its transdisciplinary R&D methodology to administer the following two programs: Future Earth, Enhancement of Societal Resiliency Against Natural Disasters (Strategic Innovation Promotion Program (SIP))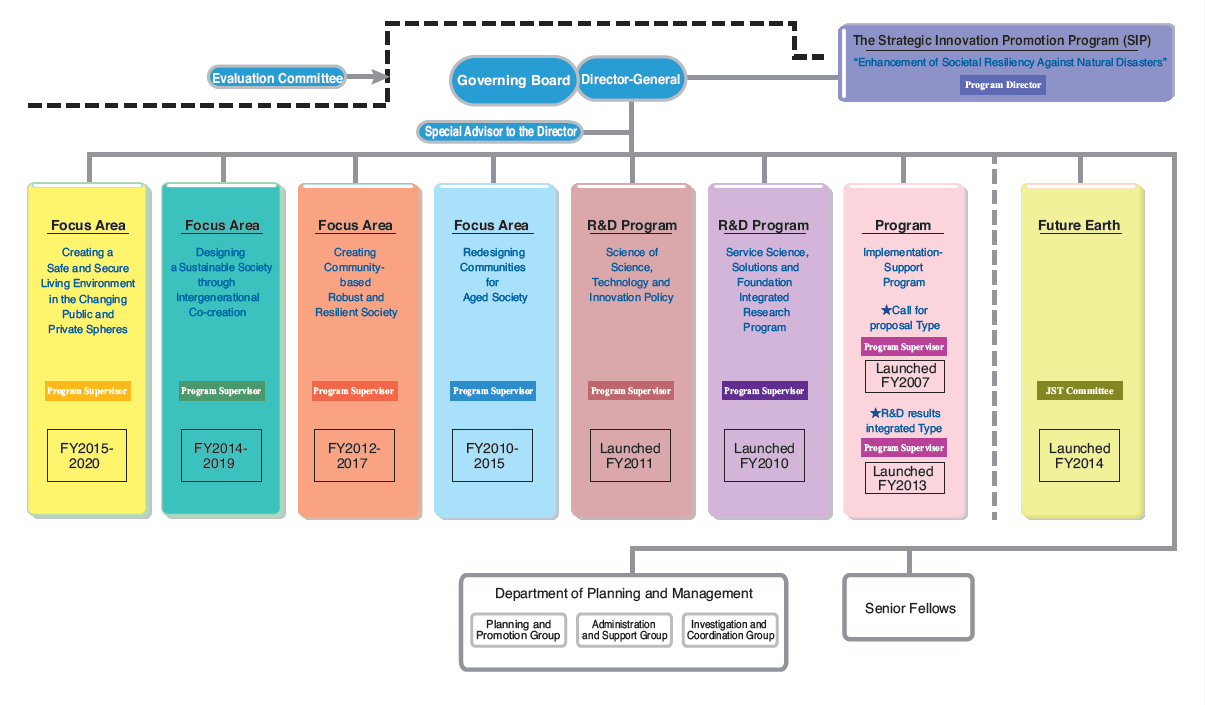 The RISTEX Governing Board is composed of experts who discuss matters vital to the management of RISTEX such as setting, modifying and terminating R&D focus areas.

The Evaluation Committee is composed of experts who conduct interim and final evaluations on the achievement of R&D targets and project progress status.

Under its Director, the Department of Planning and Management

carries out

researches and

planning for new themes,

management of R&D focus areas, public relations, and other administrative tasks related to R&D projects.
Activities
RISTEX engages in activities such as those in the diagram below, with a view to promoting R&D that seeks solutions to specific social issues.
Identifying social issues: Identifying current social issues or issues that can be expected to occur in the future, and inviting relevant experts and stakeholders to survey and investigate the respective issues before narrowing down specific issues.
Establishing R&D focus areas: Based on the results of I above, establishing R&D focus areas where RISTEX activities can contribute to solution of issues.
Promoting R&D: Under the Area Directors, who manage with responsibility for R&D focus areas, establishing R&D programs that have clearly defined R&D goals, issuing calls for R&D project proposals, and promoting adopted R&D projects. Encouraging participation of stakeholders at every stage establishing topics, implementing R&D, and conducting evaluations so that the results of R&D will contribute to the resolution of actual social issues.
Presenting prototypes in order to return R&D results to wider society.
Assisting the application of results in wider fields and for establishment in society.
Going through these five steps as a sequential cycle enables collaboration among science and technology and society to create prototypes (the results). The objective in seeking the diffusion and establishment of these prototypes is to make contributions to the resolution of social issues and to create new social and public value.
[The RISTEX Activity Cycle]