On May 29, JST in cooperation with "MIRAI" held the "JST-MIRAI Project Joint Workshop" – MIRAI being an ongoing research, education and innovation initiative linking 15 leading universities in Japan and Sweden. The workshop provided an opportunity to discuss how international cooperation can be further leveraged to contribute to common challenges including the SDGs.
Presentations by associates of the MIRAI project included evaluations of current funding structures, entrepreneurship education activities at MIRAI-participating universities, and examples of Japan-Sweden collaboration successes joint-funded by JST and VINNOVA (Sweden's innovation agency).
Prof. Takao Someya of Tokyo University presented wearable sensor tech that sticks comfortably to the skin to continually monitor vital signs of elderly wearers. Prof. Koichi Matsuo of Fujita Health University presented 3-D printed foods and rehabilitation techniques for those suffering frailty and difficulty swallowing. Both projects were successful academia-industry initiatives combining the laboratory experience of university researchers with product development expertise of technologically-advanced companies, and provide inspiring models for future collaborations to follow.
Indeed, mutual challenges surrounding our ageing societies was highlighted as an area where future collaboration can be particularly meaningful. As well as developing technologies designed to make society more livable for the elderly, increasing lifespans and career length necessitates lifelong entrepreneurship education and universities are expected to play a valuable role here.
Other key opportunities/challenges highlighted during group discussions included: how MIRAI can organize and promote academic exchanges and its own unique graduate school programs; how younger researchers can be encouraged to enroll in entrepreneurship courses, take long-term internships and get a head start on their careers; how existing academic and industry networks can be better utilized to attract more players into MIRAI initiatives; how awareness about MIRAI and its potential can be nurtured through hosting large scale social dialog events; how the project itself can be optimized to ensure better matchmaking and administration of ongoing activities.
It's clear that both Japan and Sweden are committed to making MIRAI an effective collaboration platform, and with so many exciting opportunities on the horizon its future does indeed look bright.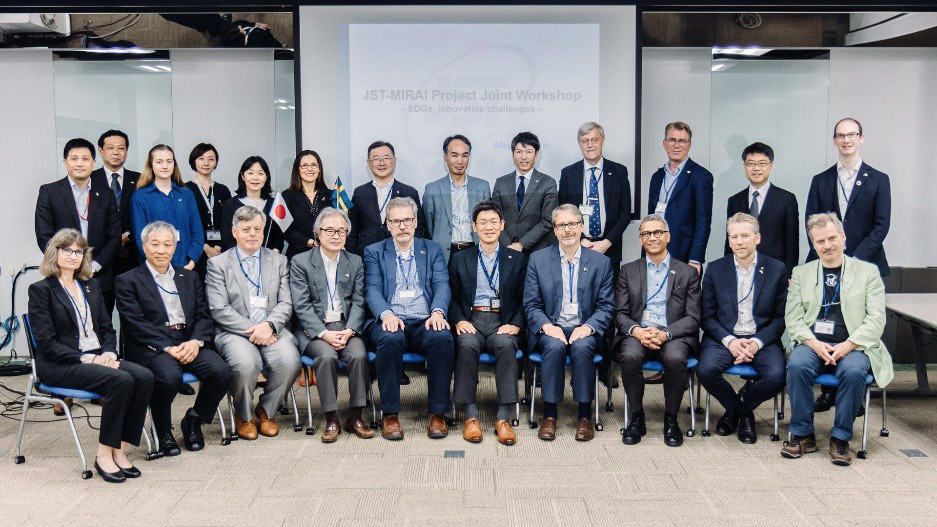 The workshop was held in the conference rooms of JST's Tokyo headquarters and attended by 30+ speakers and discussants.