A signing ceremony was held at Tokyo University of Agriculture (Tokyo NODAI) on April 11, 2019 for a collaborative research agreement between Tokyo Nodai and the University of Djibouti. This marks the beginning of the project "Advanced and Sustainable Methods on Water Utilization Associated with Greening Potential Evaluation in Djibouti" as part of the SATREPS (Science and Technology Research Partnership for Sustainable Development) program. This is the first SATREPS project in Djibouti.

Dr. Katsumi Takano and H.E. Ahmed Araita Ali present the agreement.
The signing ceremony was attended by Dr. Katsumi Takano, President of Tokyo Nodai; His Excellency, Mr. Ahmed Araita Ali, Ambassador of the Republic of Djibouti in Japan; principal investigator Prof. Sawahiko Shimada of Tokyo Nodai and other project participants; and also by Mr. Mitsuyuki Ueda, Director, International Science and Technology Affairs Division, Science and Technology Policy Bureau, Ministry of Education, Culture, Sports, Science and Technology and JST Director for Global Strategic Issue Mr. Ryuta Mizuuchi.
The ceremony was widely covered by the major newspaper (La Nation, dated April 15) in Djibouti, revealing the high interest in this joint research between Tokyo Nodai and the University of Djibouti.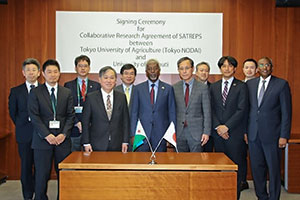 Attendees at the signing ceremony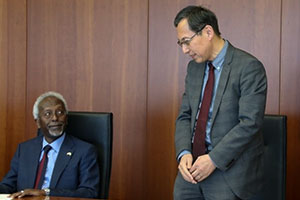 Mr. Ryuta Mizuuchi of JSTís Department of International Affairs offers congratulations.
Located in the Horn of Africa, Djibouti receives only about 50-200 mm of rainfall a year, and it has temperatures that reach over 40°C in summer. This project aims to establish efficient and sustainable methods of water utilization and management in arid lands and to achieve the implementation and dissemination of sustainable agropastoral practices in Djiboutiís extremely harsh natural environment. The outcome of this research is expected to contribute to two United Nations Sustainable Development Goals: Goal 2 "promote sustainable agriculture" and Goal 6 "ensure availability and sustainable management of water and sanitation for all."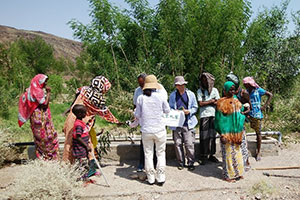 Prof. Shimada conducting interviews at local farms during a survey in Djibouti.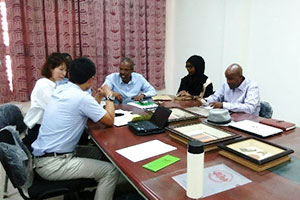 Project participants from Japan and Djibouti discussing details of the project.