Miraikan
http://www.miraikan.jst.go.jp/en/

©Gosho Aoyama/Shogakukan ・Yomiuri
Telecasting ・TMS 1996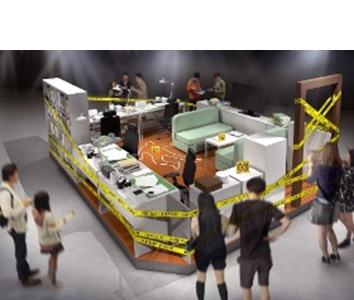 Crime Scene Inspection Area (rendered image)
Miraikan - the National Museum of Emerging Science and Innovation (Odaiba, Tokyo), will hold the special exhibition "Detective Conan: Scientific Investigation" from April 18 to July 8, 2018. Detective Conan, also known abroad as Case Closed, is a popular anime and manga franchise that has spread across borders, cultures and generations since its serialization beginning in 1994. The special exhibition provides a fun experience through the process of a scientific investigations in the imaginary world of Detective Conan. The exhibition features a special original story not seen in the original works.
At the entrance, participants receive their choice of one of two kinds of detective notebooks, which yield a different investigation course in the same area. One is the Conan & Amuro Course, in which participants use a detective stance to accumulate various forms of evidence and narrow down a suspect. The other is the Conan & Ran Course, in which participants collect information from Conan's friends at the site and clear the name of the suspect Kogoro.
Within the exhibition space, participants will uncover the truth of the case by walking through three areas guided by their detective notebook. The first area is the crime scene inspection area, where participants observe the simulated murder scene and gather clues like the weapon. The second area is the information-gathering area where participants question Conan's friends for clues around town to collect information about the crime. The last stop is the lab area where participants use the power of science to analyze clues and evaluate the evidence scientifically.
Through inspection, gathering and analyzing information, and verification in this exhibition, participants will learn the process of logical reasoning by forming hypotheses based on the gathered evidence. Participants will also learn the importance of uncovering the truth by combining science and technology.