0saka, Japan - Dr. Reitaro Tokumasu and Prof. Sachiko Tsukita of Osaka University announced new insight into Atopic Dermatitis, obtained by systematically regulating the claudin-1 expression level in mice.
Atopic Dermatitis (AD) is a common chronic inflammatory skin disease that decreases quality of life. Epidermal barrier functions are known to be important for skin homeostasis, and their disruption can cause skin diseases. Recent evidence suggests that AD is associated with decreased Claudin-1 expression levels in humans. However, since claudin-1 knock-out (KO) mice die due to dehydration within 1 day of birth, it has been difficult to study how Claudin-1 contributes to skin diseases.
In this report published in PNAS, the authors established a series of mouse lines that express claudin-1 at various levels, and used these mice to study Claudin-1ís effects in vivo. At low claudin-1 expression levels, the mice exhibited morphological features of AD and an innate immune response. These phenotypes were especially apparent at the infant stages and lessened as the mice became adults, depending on the expression level of claudin-1. These results provide strong evidence that changes in epidermal barrier functions caused by low Claudin-1 levels have potential roles in the pathogenesis, severity, and natural course of human AD. This report suggests that Claudin-1 orchestrates the features of AD in a time- and dose-dependent manner in vivo, providing insight into the etiology of AD and suggesting a possible therapeutic target for this disease.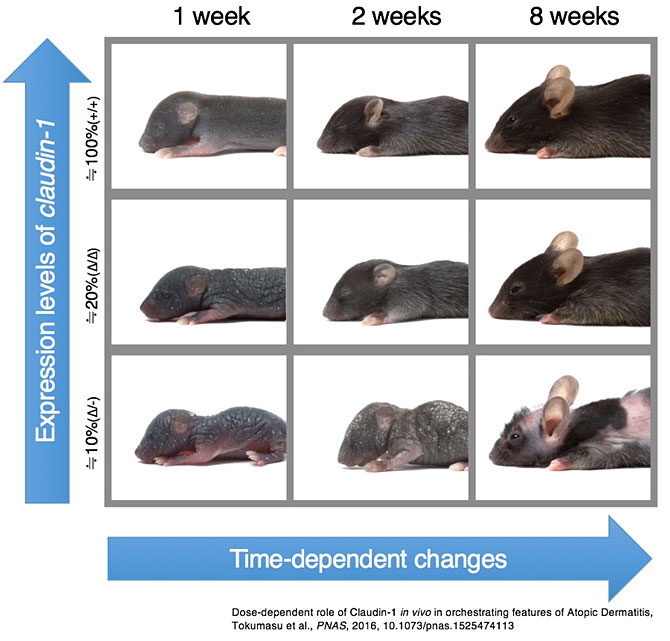 Program Information
JST CREST
Research Area "BIODYNAMICS"project
Research Theme "Elucidation of a novel unified epithelial system defined by the reciprocal regulation of cell-cell adhesion and the apical cytoskeleton and its use for manipulating the epithelial barrier"
Research Director: Sachiko Tsukita (Professor, Osaka University)
http://www.jst.go.jp/kisoken/crest/en/project/35/e35_09.html
Journal Information
Reitaro Tokumasu, Kosuke Yamaga, Yuji Yamazaki, Hiroyuki Murota, Koya Suzuki, Atsushi Tamura, Kana Bando, Yasuhide Furuta, Ichiro Katayama and Sachiko Tsukita. "Dose-dependent role of claudin-1 in vivo in orchestrating features of atopic d ermatitis". Proceedings of the National Academy of Sciences (PNAS), Published online June 24, 2016, doi: 10.1073/pnas.1525474113.
Contact
[About Research]
Sachiko Tsukita, Ph.D.
Professor, Osaka University
E-mail:

[About Program]
Tetsu Kawaguchi
Life Innovation Group, Department of Innovation Research, JST
E-mail: