It is important to capitalize on lessons learned from research or investigations conducted immediately after the occurrence of disasters which cause enormous impact.
Results of J-RAPID research conducted by Prof. Taniguchi has guided development of a "Butsuryu(=distribution) Net System" for the purpose of relief distribution, as an activity of the Japan Butsuryu Network Association which is composed of freight and transportation carriers.
Toward optimization of relief distribution in the disasters
—Capitalize on experience of 2011 Great East Japan Earthquake to the future—
"Field Investigation on Humanitarian Logistic Practices under Cascading
Disasters and a Persistent Threat: The Great Eastern Japan Earthquake"
JAPAN PI : Eiichi Taniguchi, Kyoto University
US PI : Jose Holguin-Veras, Rensslaer Polytechnic Insitute
Research period : June 2011 – March 2012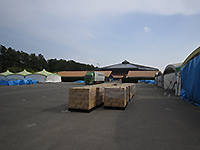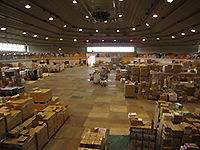 Photo(all):prefectural depot of the relief distribution(Iwate prefecture)
Prof. Taniguchi conducted research on optimization of supply chain management utilizing ITS (Intelligent Transportation System) and Urban revitalization.
"Humanitarian Logistics" is defined as the process of planning, implementing and controlling the efficient, cost-effective flow and storage of goods and materials, as well as related information, from the point of origin to the point of consumption for the purpose of alleviating the suffering of vulnerable people.
For improving humanitarian logistics planning in response to future disasters, with the collaboration of US researchers, Prof. Taniguchi's team collected real data on relief distribution to refuge centers and performed interviews with those who had been involved in the relief distribution such as prefectures, municipalities, retailers and freight carriers. The purpose of this study was to present recommendations for improving humanitarian logistics based on analyzing the successes and failures of relief distribution and their various causes.
The Japan and the US teams shared their knowledge and experiences of disaster investigation: the Great Hanshin Awaji Earthquake (1995) and Mid Niigata Prefecture Earthquake (2004) from the Japanese side, and Hurricane Katrina (2005) and the Haiti Earthquake (2010) from the US side.
In addition, comparison between Japan and foreign fields enabled more in depth interview and data analysis.
Research was based on the following points;
1) location of depots
2) number of trucks, system of procurement, storage and sorting
3) how to assess local needs
4) how to utilize ICT (Information Communication Technology) or ITS for communication and logistics management
Research that had been conducted rapidly after the disaster's occurrence brought about plentiful new findings.
The state of humanitarian logistics greatly varies by environment and culture in each country, scale of disaster, system of national/local government and so on. With support from JST, Prof. Taniguchi is continuing his research as the "Road Networks for Earthquake Resilient Societies" project, within the framework of the CONCERT-Japan* Project with collaboration from Germany, Romania and the UK.
* CONCERT-Japan is a project that aims to develop cooperative relationships in science and technology between Japan and European nations.
http://www.jst.go.jp/pr/info/info960/index_e.html