A robust cell engineering system developed by an ImPACT research team at Columbia University enables precise control of gene expression spatiotemporally using light in mammalians in vitro and in vivo. This study led by Masayuki Yazawa, an assistant professor of Rehabilitation and Regenerative Medicine, Pharmacology and Columbia Stem Cell Initiative at Columbia University Medical Center was published in Nucleic Acids Research in October 10, 2017.
While multiple light-controlled systems are available, their methods had moderate induction of gene expression with light and showed significant leak of the expression in dark conditions. Yazawa's team has taken a variety of molecular biological approaches to resolve the issues of existing light-controlled systems. This newly improved tool demonstrated up to 300-fold induction of target genes with light and no leak in the dark, overcoming the limitations of the previous systems.
This innovative technology will be applicable for precise transcriptional control with single cell resolution in the fields of stem cell biology and neuroscience in order to address remaining biological questions and also to unveil the molecular mechanisms underlying human diseases such as neurodevelopmental disorders.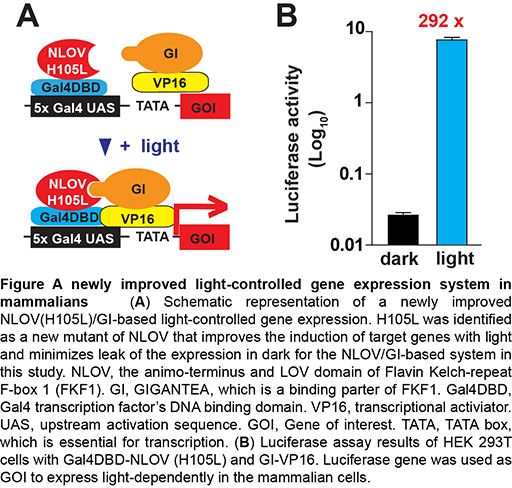 Program Information
Impulsing Paradigm Change through Disruptive Technologies (ImPACT) program, the Cabinet Office, Government of Japan
Research Theme "Turning Serendipity into Planned Happenstance"
Journal Information
Jose R. Quejada, Seon-Hye E. Park, Daniel W. Awari, Fan Shi, Hannah E. Yamamoto, Fuun Kawano, Juergen C. Jung and Masayuki Yazawa."Optimized light-inducible transcription in mammalian cells using Flavin Kelch-repeat F-box1/GIGANTEA and CRY2/CIB1". Nucleic Acids Research, Published online October 10, 2017, doi: 10.1093/nar/gkx804.
Contact
[About Research]
Masayuki Yazawa, Ph.D., Assistant Professor
Columbia Stem Cell Initiative
Department of Rehabilitation and Regenerative Medicine
Department of Pharmacology
College of Physicians and Surgeons, Columbia University
630 West 168th Street, PS 7-421/431, New York, NY 10032, USA
Tel: +1-212-305-1052
E-mail:

[About Program]
ImPACT Program Promotion Office, Cabinet Office, Government of Japan
1-6-1 Nagata-cho, Chiyoda-ku, Tokyo 100-8914, Japan
Tel: +81-3-6257-1339
Office for the Impulsing Paradigm Change through Disruptive Technologies Program, JST
Tel: +81-3-6380-9012
E-mail: