[本文]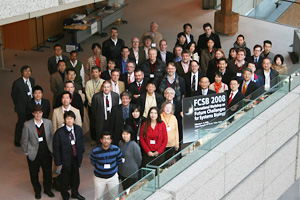 The following international workshop on systems biology was held as part of a project to promote international strategic cooperation in science and technology.

Co-Hosts: the Japan Science and Technology Agency (JST), and the Biotechnology and Biological Sciences Research Council (BBSRC) of the United Kingdom
Sponsors: British Embassy in Japan, and the Systems Biology Institute (SBI)
Date : February 4-6, 2008
Venue: Tokyo International Forum (Yurakucho, Tokyo)

Thirty-two front-line researchers in the field of systems biology were invited as lecturers from ten countries (including Japan) to make presentations about the latest trends in the field. On the first day, eleven leading-edge activities from throughout the field were introduced. On the second and the third days, 19 presentations including two keynote lectures were given, all under the theme of a paradigm shift over the application of systems biology to the development of new drugs. More than 70 people including invited participants and a general audience attended the workshop each day, and spirited high-level discussions took place.