JST Topics
Work in EU or Japan? ―Collaborative job search service with EURAXESS started
October 15, 2018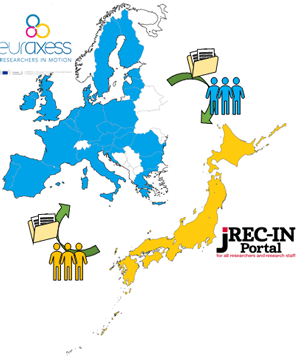 Starting in August in 2018, JREC-IN Portal launched a data exchange service with EURAXESS, a support service for professional researchers in Europe.
JREC-IN Portal is an informative portal site that supports the career development and skill building of researchers, research assistants, engineers and other research-related professionals. EURAXESS is a pan-European initiative aiming for researchers' mobility backed by the European Union and its Member States. As one of activities, it aggregates and opens job information of research personnel in EU. Now, JREC-IN Portal and EURAXESS share a part of data for job offers and make job search on the Web sites available.
To create new knowledge and cause innovation in society, it is necessary for research personnel to interchange beyond fields, organizations, and national borders. The collaboration with EURAXESS increases opportunities for researchers in the EU to apply for jobs in Japan as well as for Japanese researchers to apply for jobs in EU. Accordingly, mobility of researchers will be greater than ever between Europe and Japan.
EURAXESS: https://euraxess.ec.europa.eu/
JREC-IN Portal-Career support portal site for all researchers and research staff:
https://jrecin.jst.go.jp/seek/SeekTop?ln=1
---
JST, an integrated organization of science and technology in Japan, establishes an infrastructure for the entire process from the creation of knowledge to the return to the society. For more information, visit http://www.jst.go.jp/EN/