August 7, 2018
http://www.jst.go.jp/tt/jstfair2018/
The "JST Fair 2018", organized by JST, will be held at the Tokyo Big Sight (Koto-ku, Tokyo) on August 30-31, 2018.
In the keynote speech, entitled "Applying traditional techniques in the development of new products", Professor Yumi Ogose, from the Tokyo University of Science, will discuss how to effectively apply added value to a new product, through examining details of traditional techniques.
One of JST Fair 2018ís highlights is a COI site booth of Tokyo University of the Arts, where a special, futuristic concert will be held starring Narimichi Kawabata. Narimichi became visually impaired at the age of eight and has been studying with his ears alone. He is now based in the UK as an international soloist, while taking part in charity concerts both in Japan and abroad. A designated AI based video synchronization system, currently under development, will create harmony of classical music played by a human being with visuals produced by four world famous animation creators. It will give a compelling experience to all. Furthermore, a unique android created by the Tokyo University of the Arts, will assist the presenter of the concert.
An integrated CREST/PRESTO program will exhibit a special booth focused on "Energy harvesting by converting micro-energy into electricity." It will showcase raw materials and elements, which enable the conversion of heat, light, vibration, electromagnetic fields, biological bodies, and other types of ambient micro-energy, into electricity in the range of μW-mW. Such Energy Harvesting can be used in self-powered sensors, microprocessors, and other types of devices. Actual process of generating electricity will be demonstrated. Meet the cutting-edge technology which will be applied to sensors and information processing devices.
*Innovation Japan 2018 will be held simultaneously.
Dates:August 30(Thu)-31(Fri), 2018
Venue:West Hall 3, Tokyo Big Sight(Tokyo International Exhibition Center)
Entrance fee:No charge(Please register in advance on the official website.)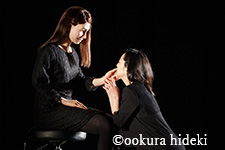 Android of Tokyo University of the Arts (left)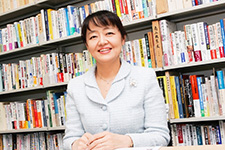 Prof. Yumi Ogose, the Tokyo University of Science

At the reception area of the JST Fair 2017