Cabinet Office SIP HP: http://www8.cao.go.jp/cstp/gaiyo/sip/
SIP Energy Carriers HP: http://www.jst.go.jp/sip/k04.html
"SIP Energy Carriers" is one of the eleven programs of the Cross-ministerial Strategic Innovation Promotion Program (SIP), which is led by Program Director Shigeru Muraki, Executive Advisor, Tokyo Gas Co. Ltd. The photo "Blooming coal," taken and processed by Osaka University and the Central Research Institute of Electric Power Industry (CRIEP), during their participation in the SIP R&D theme "Direct Combustion of Ammonia" received the highest award of the 2016 Photo Contest -Beautiful Flames- hosted by the Combustion Society of Japan.
The "SIP Energy and Carriers" project aims for the promotion of R&D to contribute to solving global warming and energy security issues in Japan through the smooth introduction of hydrogen and hydrogen energy carriers. The "Blooming coal" photo, which received the best photo award, was taken during a process carried out in the research on the direct combustion of ammonia, a promising energy carrier.
According to the web site, "This is a photograph of co-combustion field of ammonia and pulverized coal particles stabilized by a hydrogen/air counterflow diffusion flame. Counterflow flame is formed by air/ammonia premixed gas supplied from the top port and nitrogen/hydrogen premixed gas supplied from the bottom port. The ammonia premixed flame emits bright yellow luminescence. Pulverized coal particles, which are supplied from the top port, burn while spreading radially after passing the ammonia premixed flame front."
( http://www.combustionsociety.jp/eng/index.html )
A video featuring this process titled "Subject6 Direct Combustion of Ammonia for Industrial Furnaces" is available on the SIP Energy Carriers web page. (time: 04:30)  
http://www.jst.go.jp/sip/k04_movie.html
The photo will appear in all issues of the "Journal of the Combustion Society of Japan" in 2017. See more details of Photo Contest -Beautiful Flames- on the Combustion Society of Japan Web site linked below.
http://www.combustionsociety.jp/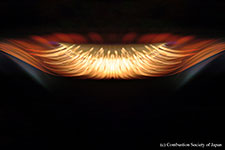 2016 Photo Contest -Beautiful Flames-The Highest Award
at the Combustion Society of Japan