Department for Promotion of Science Education
For three days starting on December 2nd, 2016, JST hosted the 4th Japan Junior High School Science Championships (JJHSSC) at the BumB Tokyo Sports Culture Center. Junior high school students representing each prefecture competed with their scientific abilities.
281 students representing the 47 prefectures (one team consists of 6 members) took part in written and practical competitions. One of the practical competitions was a CD car race. The competitors created a car using small CDs that have a small coefficient of friction as wheels. The JJHSSC mascot Appin rode in each race car that ran a straight downhill course. The competition was not just about speed, but also about being able to stop within a specific goal area. The Gunma Prefecture Team (a team consisting of members from Maebashi City Third Junior High School and Isezaki city's Yotsuba-Gakuen Junior High School) won the "Ministry of Education, Culture, Sports, Science, and Technology Award". 14 other teams also won prizes from sponsoring companies and organizations. The Gunma Prefecture Team expressed their pleasure with comments such as, "A complete team effort led us to first place" and "We continued to get better throughout the competition". In addition to the competition, a social event was also held, where everyone could exchange ideas and develop friendships. Thus, all the competitors got to experience the slogan of JJHSSC, "Let's spread science, and let's build friendship through science". They said that they wanted to return to the competition next year as well. The 5th Japan Junior High School Science Championships will be held in Tsukuba City in December 2017.
- This is an English translation of NEWS 4 in TOPICS, which was published in the January 2017 issue of JST news.
http://www.jst.go.jp/pr/jst-news/pdf/2017_01/2017_01_p14-15.pdf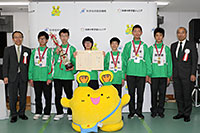 Gunma Prefecture Team winning press conference

Globes were used for the written competition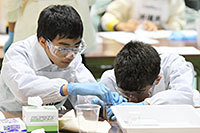 Analyzing a dye contained in unknown sample

The CD car race