Office of International Strategy
Department of International Affairs
Department for Science and Technology Program Promotion
The 6th Tokyo International Conference on African Development (TICAD VI) was held in Kenya on August 27th and 28th. Since its establishment in 1993, it was the first African-hosting congress, with more than 11,000 people assisting from the 53 African countries, as well as delegates from development partner countries, Asian countries, international organizations and regional institutions, and representatives of civil society such as the private sector and NGOs. From JST, President HAMAGUCHI Michinari, Deputy Executive Director ITO Sotaro, and 4 other staff attended the session and the related events.
At the lecture of the STS Forum-sponsored workshop, Dr. HAMAGUCHI who emphasized further cooperation mentioned as follows. "JST contributes to sustainable developments in Science and Technology Innovation (STI). So far, we have supported 17 African countries and 30 projects of SATREPS. We shall support about 2.5 billion yen in total after 2016. For the 4 projects newly adopted by JST in 2016, we will support 2 billion yen in total during the next 5 years. Furthermore, we are establishing a mechanism to support the preparatory stages of the African countries that have not yet been adopted. Focusing on human resource development, we have received approximately 447 researchers and students from the African countries, and sent approximately 1,362 researchers and students to the African countries from Japan. We would like to contribute to the sustainable developments of Africa through STI." At the same workshop, Prime Minister ABE Shinzo also gave a keynote lecture.
On August 26th, the SARTEPS Symposium "Symposium on Roles and Challenges of Science and Technology Cooperation in Africa from Research to Development" was held. JST Deputy Executive Director ITO Sotaro covered the outline of the SATREPS program including partnership with Africa and future initiatives. He sent a message saying, "Japan has a framework to support the technological innovation of Africa, and we would like to expand it in the future."
At the symposium site, SATREPS was introduced through its introduction video, pamphlets which featured the results of the partnership with the African countries and the posters of the joint researches. Also, a co-researcher from the African side introduced practical cases of research results on infectious diseases, climate change and the initiatives for human resources development. SATREPS was confirmed as an effective tool to enhance the science and technical cooperation between Japan and Africa. Furthermore, a site cooperation project promoted by STI-COPP Africa was introduced as one of JST's initiatives. The site cooperation project has been established for its practical use. STI-COPP Africa is a program (Strategic Promotion of International Cooperation for Innovation Promotion in Developing Countries) entrusted by the Ministry of Education, Culture and Sports, Science and Technology (MEXT).
- This is an English translation of NEWS 2 in TOPICS, which was published in the November 2016 issue of JST news.
http://www.jst.go.jp/pr/jst-news/pdf/2016_11/2016_11_p14-15.pdf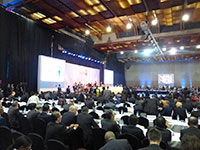 TICAD VI Ministerial Meeting. Mr. ABE Shinzo, Prime Minister, served as co-chair along with Mr. KENYATTA, President of Kenya, and Mr. DÉBY ITNO, President of the Republic of Chad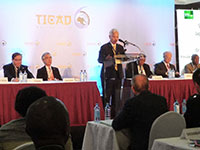 JST President HAMAGUCHI Michinari gives a lecture at the TICAD VI STS Forum Workshop. He was also in charge of a session moderator.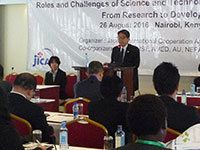 Mr. ITO Sotaro, JST Deputy Executive Director gives a lecture at the SATREPS Symposium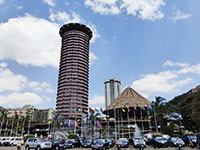 The 6th TICAD VI Conference site