China Research and Communication Center
http://www.jst.go.jp/crcc/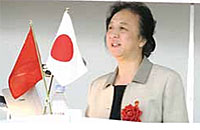 Dean FANG delivering a keynote lecture
JST hosted a symposium for Japanese and Chinese female scientists at the Tokyo headquarters K's Gobancho in April 2016. A series of this bilateral symposium commenced in 1992, and subsequently three symposiums were held alternately in Japan and China. Although the event was interrupted for a while due to the bilateral relationship, this year's symposium took place for the first time in six years under the Japan-Asia Youth Exchange Program in Science (SAKURA Exchange Program in Science).
A majority of the 23 participants from China were young female researchers. JST President Dr. HAMAGUCHI welcomed the participants with his opening address in which he shared his experience of studying abroad and emphasized the significance of international exchanges. After the welcome speech, two keynote lectures were delivered by Dr. FANG Xin, the Dean of the Public Policy and Management School, University of Chinese Academy of Science (UCAS) and Dr. KURODA Reiko, Professor, Tokyo University of Science.
President FANG impressed the conference audience with her candid speech on the status of women in China. "The notion of women's equality was stronger in the 50s than it is now," she said. "The gender gap is progressively widening with the advancement of age and career." She also stressed the necessity of 'improvement of research environment' and 'awareness of female researchers.'"
During the research report session in the afternoon, two UCAS professors separately delivered reports on ultra-thin semiconductors and nanoenzyme (enzyme complex), both of which demonstrated a high level of research in China.
The first Japanese reporter was Dr. NAKANISHI M. Tomoko, Professor, Graduate School of Agricultural and Life Sciences, the University of Tokyo. She is the 2016 winner of the Hevesy Medal Award – the world's most prestigious award that celebrates outstanding achievements on radiometric analysis and nuclear chemistry – which she received in April. Dr. NAKANISHI covered a wide range of issues including the effect of radioactive contamination of soils and agricultural products caused by the accidents at TEPCO's Fukushima Daiichi Nuclear Power Station. Dr. MUROFUSHI Kimiko, President of Ochanomizu University, introduced her discovery of lipid that is applicable to drugs for osteoarthritis. These two reports moved participants to recall the social responsibility of researchers.
The following day, the participants continued exchanging their ideas through research presentations carried out near the Fuji Five Lakes. After the symposium, Chinese participants expressed their high satisfaction of the bilateral conference in a questionnaire survey.