Center for Science Communication http://www.jst.go.jp/csc/
Opportunities for science communication are open to all. You are not asked to be specialists in the field concerned in order to take part in the activity; rather, you are to address the issue as your own and take part from your own perspective. Cultivating the ability to identify the issue, obtaining basic scientific knowledge, adopting a scientifically sound approach in thinking about the issue, and collaborating with others to work on it are all constituents of S&T literacy, which should help you in contemplating, discussing, and resolving complicated issues on the relationships between S&T and society.
Drs. Motonori HOSHI and Eizo NAGASAKI, fellows at the JST Center for Science Commutation (as of March 2015), studied ways in which S&T literacy can be promoted in society as a whole, and the means through which individuals can acquire it. Their study was based on the concept of the Science and Technology for All Japanese project * and consisted of five topics (Competency and Literacy, Japanese Cultural Background, Risks in Everyday Life and Risk Literacy, Shifts and Challenges in Japanese Post-war Education, and the Partakers of S&T Literacy). These topics were compiled into a report to further promote and build S&T literacy. This past December, the study group held a session at the Tokyo headquarters of JST where the report was shared. The presentation was followed by a structured workshop in which participants discussed strategies for building and disseminating S&T literacy, which culminated in ten project ideas directed toward the government, business enterprises, media, and educational institutions.
* The Vision of S&T Literacy in the 21st Century—Intelligence for Fruitful Lives was a research project drafted by the Science Council of Japan and the National Institute for Educational Policy Research for the purpose of considering S&T literacy for the Japanese. The project was put together as a report in 2008.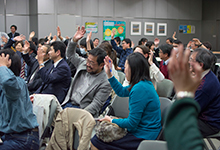 The workshop in December 2014 While envisioning a future Japanese society where everyone is familiar with S&T and having dialogue with each other, the participants, who just met for the first time, were grouped into pairs and listened to each other's opinion.