Promoting Science and Techonology System Reform
Japan has developed relationships in the field of science and technology (S&T) with a large number of countries around the world. However, it's safe to say that there's still plenty of room for growth in those with African countries. As enhancement of these relationships was strongly encouraged at the second Japan-Africa Science and Technology Ministers' Meeting in October 2010, Japan and Africa have collaborated in launching a program, entitled "Strategic Promotion of International Cooperation to Accelerate Innovation in Developing Countries." This program is to establish "Regional Centers of Science, Technology & Innovation (STI) Cooperation" in Africa, which will function as hubs of a research and innovation network between Japan and Africa.
In Tohoku University's project - "Establishment of International R&D Center for Innovative Sewage Treatment Technologies for Agricultural Reuse in Arid Regions" - of the aforementioned program, Japan and Egypt have developed sewage treatment systems that feature easy maintenance and low operational costs, aiming at reutilization of sewage in a sanitary manner. This development has been carried out at the Egypt-Japan University for Science and Technology (E-JUST) as a research and education site, whose establishment in 2010 was supported by Japan. Although failing to transport a pilot plant produced in Japan to Africa by the end of the previous fiscal year as scheduled, due to the aftermath of the 2013 Egyptian coup d'état, we were finally able to begin operating this plant in January 2015.
On January 11, 2015, in celebration of the operation of the plant, both countries cohosted a symposium on said program in Alexandria, Egypt. Some reports were delivered regarding projects of Osaka University on the clinical development of a promising malaria vaccine in Uganda and of Nagasaki University on developing a simultaneous diagnosis technology for multiple infections of neglected tropical diseases (NTDs) effective in implementing NTDs surveillance, in addition to the project of Tohoku University. A panel discussion was also conducted on the promotion of STI cooperation for opening up opportunities in innovation between Japan and Africa, and participants had the opportunity to take part in spirited discussions.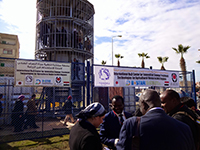 The pilot sewage plant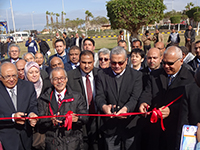 At the ribbon-cutting ceremony for the official opening of the plant (From the left) Prof. Dr. Ahmed El-Gohary, the president of E-JUST, Dr. HARADA Hideki, professor of Tohoku University, Dr. Sharif Hamad, the Egyptian Minister of Scientific Research, and Prof. Dr. Mohamed Abdel-Motaleb, the president of the National Water Research Center Cairo of Egypt