This past October, JST had visits from Dr. Hiroshi AMANO, a 2014 Nobel Laureate in Physics, and Dr. Michinari HAMAGUCHI, the president of Nagoya University. JST president NAKAMURA asked, "What is a key to producing Nobel Laureates from your university?" In response, Dr. Hamaguchi answered, "I believe a strong relationship of trust between teacher and student has served as a driving force in accomplishing breakthroughs."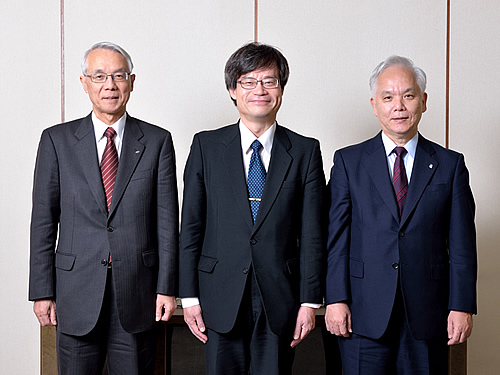 (From the left) president Nakamura, Dr. Amano and president Hamaguchi
A spirited talk took place between these visitors and JST's head on topics of personnel development and others, in addition to the achievement in blue LEDs. Dr. Amano said, "I hope to contribute to developing human resources. Now I'm considering how we should develop young people into our next-generation of Ph.Ds. I think I myself received an excellent education. Now that I'm serving as a teacher, I feel obliged to pass on my educational experience to young people."
Dr. Amano also said, "We face various issues that need to be addressed, including ones on foods and energy. In terms of my next challenge, I would like to contribute to solving energy issues using electronics."

JST president Nakamura shaking hands with Dr. Amano