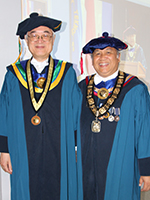 Professor Matsuoka (left) with ITB Rector Akhmaloka after the ceremony
Professor Toshifumi Matsuoka of Kyoto University, the principal investigator for an international joint research project being conducted with Indonesia under the SATREPS program, was recently presented with an award by Indonesia's Bandung Institute of Technology (Institut Teknologi Bandung - ITB). Professor Matsuoka was honored with a Ganesa Widya Jasa Adiutama award (an ITB Award) in recognition of his contributions to ITB and to science and technology in Indonesia.
According to ITB, there are four types of ITB Award, which are conferred upon both individuals and organizations. This, the 5th round of ITB awards, was held to mark the 94th anniversary of the launch of technology-related higher education programs in Indonesia, in which ITB plays a central role. A total of 18 people, including Professor Matsuoka, and six organizations were selected as ITB Award recipients on this occasion. Japan International Cooperation Agency (JICA), which runs the SATREPS program jointly with JST, was one of the organizations honored with an ITB Award.
Professor Matsuoka is the principal investigator for a SATREPS project to develop carbon capture and storage (CCS) technologies for the sequestration of CO2 released during the production of natural gas in Indonesia's Gundih gas field, and for monitoring the surrounding environment. The project includes plans for conducting what would be Southeast Asia's first CCS pilot project. ITB and state-owned energy company PERTAMINA are representing Indonesia in the project. Specific activities include the development of numerical simulations of the behavior of sequestered CO2, a pilot project feasibility study, and the training of young researchers.
The award ceremony was held in ITB's West Hall in Bandung, Indonesia on July 3 in the presence of about 300 university and government officials and other attendees, headed by Professor Akhmaloka, Rector of ITB. After praising the achievements of each award-winner and expressing his gratitude for their efforts, Rector Akhmaloka presented Professor Matsuoka and the other recipients with certificates, commemorative plaques, and medals.
Commenting on the award, Professor Matsuoka said, "It is a great honor to receive such an award for our research project. With the effects of global warming becoming increasingly apparent, I aim to intensify the efforts to find solutions, working together with researchers at ITB and in Japan."
The SATREPS project that received the ITB (Ganesa) Award
Pilot Study for Carbon Sequestration and Monitoring in Gundih Area, Central Java Province, Indonesia (adopted in 2011)
(Professor Toshifumi Matsuoka, Kyoto University)
http://www.jst.go.jp/global/kadai/h2305_indonesia.html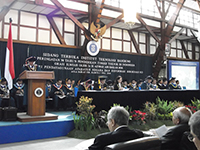 ITB Awards ceremony in ITBfs West Hall