For two days starting on December 21, 2013, JST hosted the first Japan Junior High School Science Championships (JJHSSC) at the National Olympics Memorial Youth Center. All the events proceeded smoothly while general audience including the parents of participating students were watching, and the team from Shiga won the overall victory.
The JJHSSC was initiated in the current fiscal year for the purpose of providing junior high school students with the opportunity to learn that science is linked to real life and to realize that it is valuable and fun to study science.
In this first tournament, 47 teams consisting of 281 students representing each prefecture selected from over 15,000 participants challenged one written examination and two types of experiments that called for each team to make full use of their knowledge of science and mathematics and the ability to utilize it. As the result, the team from Shiga won a gold medal, the Hyogo team won the second prize and the Hiroshima team won the third prize. The JJHSSC was sponsored by 18 companies promoting the development of scientific and technological personnel and 15 teams received awards from the companies.
The participating students expressed their impressions of this event "The examinations were hard, but we discussed things with each other in order to figure out the answers and never gave up." "We enjoyed the delightful atmosphere of both the opening ceremony and the award ceremony." Then, they all left for home holding their own prize for participation "Appin," a stuffed toy animal — the official mascot of the JJHSSC.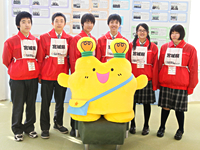 The members of the team from Miyagi taking a commemorative photo with the official mascot- "Appin" at the entrance of the venue upon arrival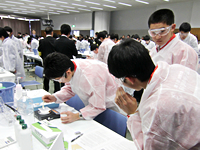 Experiment

The Champion team from Shiga at the award ceremony