On December 16, 2013, Dr. Katsuhiko Mikoshiba, Senior Team Leader at RIKEN Brain Science Institute, received the Chevalier of the Legion of Honour from the French government.
This is the result from his contributions to the remarkable achievements in brain science and the cultural and scientific exchange between Japan and France as well as on a global scale.
After his discovery of the Inositol Triphosphate Receptor (IP3) in 1989, Dr. Mikoshiba, as a Research Director of ERATO Mikoshiba Calciosignal Net Project (1995-2000) and Research Director of ICORP and SORST Calcium Oscillation Project (2001-2005 and 2006-2011, respectively), conducted comprehensive studies on IP3, including the regulatory mechanism of intracellular Ca2+ concentration, physiological function and pathogenesis, those of which were mediated by the IP3 receptor, and achieved outstanding results on an international basis.
The Legion of Honour is a French order established by Napoleon Bonaparte on May 19, 1802, with the aim of recognizing "outstanding contributions" of military and civilians in the fields of culture, science, industry, commerce, and creative activities in wartime and peacetime. This is the premier order presented by the French government.
Regarding this reception, Dr. Mikoshiba made the following comment: "In the ERATO Project, I assembled interdisciplinary researchers and conducted our research with unfettered thoughts and unconventional methods. As a result, researchers were able to show their full competence and accomplish major discoveries and outcomes that were far beyond my expectations. I also believe, having employed lots of non-Japanese researchers allowed young researchers to be exposed to ideas originating from different cultures and to nurture themselves. On this great occasion of my reception of the French order, I would like to continue to make every effort to expand the linkages not only between Japan and France but also globally to ensure that young researchers will be even more active on the global stage."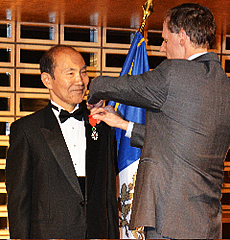 Dr. Mikoshiba receiving the order from the Ambassador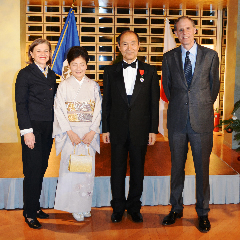 (From the right) Ambassador Masset, Dr. Mikoshiba, Mrs. Mikoshiba, and Mrs. Masset

Dr. Mikoshiba making a speech in acceptance of the order