MEXT FUTURE-PV Innovation http://www.jst.go.jp/renewable/en/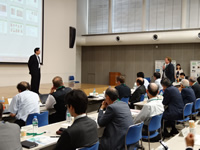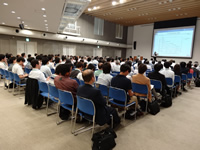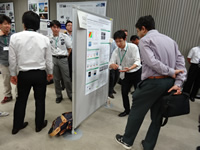 The 1st International Symposium on MEXT's FUTURE-PV (Fukushima Top-level United center for Renewable Energy research –Photo Voltaics) Innovation project Nano-Wire Si Solar Cells" was held at Tokyo Tech Front (TTF) on June 10, 2013. The symposium was organized by JST as Operational Support Institution and co-organized by Tokyo Institute of Technology (Tokyo Tech).
Opening address was given by Motoshi Shinozaki director of Environment and Energy Division of Research and Development Bureau of MEXT, Michiharu Nakamura president of JST, Yoshinao Mishima president of Tokyo Tech expressing their expectation and encouragement. After opening address, Professor Makoto Konagai of Tokyo Tech who is research director of the project gave overview of FUTURE-PV Innovation Project.
International advisory committee members of FUTURE-PV Innovation Project who are leading scientists from international research organizations, Professor Juergen Werner of Stuttgart University in Germany, Dr. Jef Poortmans of IMEC in Belgium, Professor Pere Roca i Cabarrocas of Ecole Polytechnique in France, Professor Wenzhong Shen of Shanghai Jiao Tong University in China, Professor Donghwan Kim of Korea University in Korea and Professor R. E. I. Schropp of Energy Research Centre of Netherlands (ECN) and Eindhoven University of Technology in Netherlands gave lectures on the latest R&D topics in PV technology. Senior Coordinator Michio Kondo of National Institute of Advanced Industrial Science and Technology (AIST), who is one of the domestic advisory committee members, outlined significance of Fukushima Renewable Energy Research Base (tentatively named).
Three Research Team Leaders of Future PV project, Kazuo Nakajima visiting professor of Kyoto University, Associate Professor Shinsuke Miyajima of Tokyo Tech and Dr. Yukimi Ichikawa of JST presented the recent achievements followed by an active discussion over future R&D in advanced PV technology. Poster presentation session consisted of, 13 presentations from all the research groups of FUTURE PV project generated healthy exchange of ideas and opinions over the latest elemental technology for Si nanowire solar cell.
The number of participants of the symposium was about 180 including the researchers of the project and government agency workers and a large number of general participants from industry/academia within and outside Japan. The Symposium successfully provided the latest information of the leading-edge PV R&D activities for nano-wire Si solar cells development and benefited everyone attended the symposium.