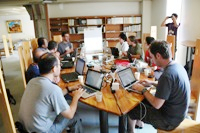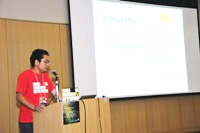 National Bioscience Database Center (NBDC) along with Database Center for Life Science (DBCLS) has hosted the international development meeting NBDC / DBCLS BioHackathon 2012 held on September 2-7, 2012.
This hackathon style annual meeting aimed at solving interdisciplinary problems between biology and the Semantic Web by the cooperation among international researchers and developers. Participants worked in a collaborative debating or programming sessions designed to rapidly develop new ideas and implementations.
They include members of major biological database providers, researchers of database integration, software developers and all work at frontline of system and program development using cutting-edge technology.
The BioHackathon of these past several years focused on applying Semantic Web technology to biological data. Principal goal of the meeting this year is developing application based on Semantic Web technology for specific fields in biology. Therefore, utilizing the technology and know-how accumulated in previous BioHackathons, it has been accomplished to list up and develop the data and technology necessary for such applications in this year meeting.
There were more than 70 participants from the inside and outside of Japan in an open symposium held in Toyama international conference center on the first day of the meeting and presentations and active discussions along the theme were performed. Participants had then moved to Ohyama training center of INTEC Inc. and devoted themselves to developing technology energetically in small groups with various objectives.
∗ Detailed information of the BioHackathon2012 such as topics and developed technologies is available at the URL below.
http://2012.biohackathon.org/