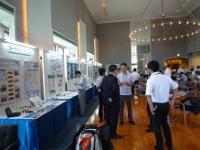 International conference on magnets, The 22nd International Workshop on Rare-Earth Permanent Magnets and Their Applications (REPM'12), was held from September 2 to 5, at Brick Hall in Nagasaki City, Japan. There were approximately 250 participants from 10 several countries of the world and about 140 results of research were announced for three days.
REPM is an international conference held every two years. Please refer to an official homepage of REPM'12 for the details (http://www.sntt.or.jp/REPM2012/).
Professor Hirotoshi Fukunaga of Nagasaki University and Professor Satoshi Sugimoto of Tohoku University act as the Conference Chair. Professor Fukunaga is a program officer of "High Performance Magnets : Towards Innovative Development of Next Generation Magnets" ,technical theme of Industry-Academia collaborative R&D programs at JST, and Professor Sugimoto is the program adviser. Professor Sugimoto is also a researcher of CREST(Element Strategy) at JST.
By the technical session, the researchers of the CREST and Industry-Academia collaborative R&D programs announced the results of their research. In the exhibition floor , two studies were introduced from CREST and six studies were introduced from Industry-Academia collaborative R&D programs.
Please refer to the following URL for the CREST "Element Strategy" and Industry-Academia collaborative study contents
Reference URL:
CREST "Element Strategy"
http://www.jst.go.jp/kisoken/crest/en/research_area/ongoing/areah22-3.html

Industry-Academia collaborative R&D programs "High Performance Magnets"
http://www.jst.go.jp/tt/EN/platform/kyousou.html