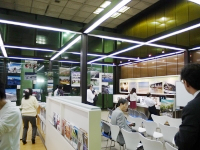 Over fifty photo panels exhibited
SATREPS is a JST-JICA program that promotes international joint research targeting global issues. Global challenges cannot be met by a single country or region acting on its own, so engagement by the international community is essential. SATREPS works through projects involving partnerships between researchers in Japan and researchers in developing countries in fields such as environment/energy, bioresources, natural disaster prevention, and infectious disease control.
Under the banner of "For the Earth, For the Next Generation," the SATREPS program is exploring the contributions that can be made by combining traditional ODA with Japan's strengths in science and technology.
JST is using the medium of photography to publicize the SATREPS program and to reach out to people who are not usually interested in science or technology. Photographs lead to greater understanding and appreciation of the program. As part of this approach, JST collaborated with the World Bank Public Information Center in Tokyo (PIC Tokyo) to organize a SATREPS Photo Exhibition including an exhibition of photo panels and "Coffee Hour" talk sessions.
There are currently 60 SATREPS projects in 33 countries (*1). The first Photo Exhibition focused on three projects that are particularly concerned with climate change, and was entitled "For the Earth, For the Next Generation—Facing up to change in the sky, sea, and land in Tuvalu, South Africa, and Bhutan." Tuvalu is an island nation in the South Pacific at risk of becoming submerged as a result of climate change. South Africa is particularly affected by abnormal weather conditions at the southern tip of Africa, and Bhutan is a Himalayan nation where people are threatened by flooding when glacial lakes burst.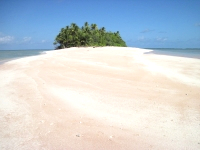 (Photo: Takashi Hosono)
"Fuakea, an islet formed from foraminifera"
Tuvalu's Funafuti Atoll is composed of a number of islets strung together. One of them, Fuakea, has large accumulations of the shells of foraminifera. Their orange coloring makes the whole island look orange from a distance.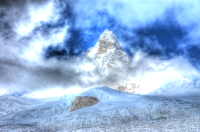 (Photo: Takanobu Sawagaki)
"Mount Chomolhari"
The south face of Chomori Kang (6,613 meters), which is towering at the devide of Po Chhu and Mangde Chhu rivers. Its magnificent view peeked out between the clouds when we were surveying glacial headwater lakes of the Mangde Chhu at Zanam.
(Photo: JAMSTEC)
"Safari park at dusk"
The Republic of South Africa has many safari parks, which are typically large expanses of land where animals live in close-to-wild conditions, without the impression of being kept. The rangers who take care of the parks guide visitors in jeeps. There is a certain amount of luck involved in encountering the animals you want to see. This photo, taken at dusk, includes a herd of kudu.
Coffee Hour talk sessions using a science cafe format were held on four days, encompassing three different themes. Researchers from each of the projects explained project objectives and described their feelings towards the project they were involved in. The talks included quizzes, and encouraged participants to interact. Samples of star-shaped sand were passed out at the Tuvalu talks, and at the other talks, participants were able to try South African wine and Rooibos tea, and to win Bhutan mushrooms as quiz prizes (*2).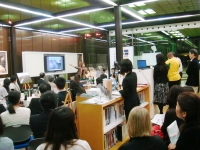 A packed talk session attracted a much larger audience than the 30 planned for
Over two weeks, the Photo Exhibition recorded a total of more than 250 visits, including over 120 exhibition visitors and over 130 talk session participants.
On the final day, October 14, the Minister of Education, Culture, Sports, Science and Technology, Masaharu Nakagawa, inspected the exhibition. Mr. Nakagawa was welcomed by the President of JST Michiharu Nakamura, SATREPS Program Director Taizo Yakushiji, and World Bank Special Representative, Japan Kazushige Taniguchi. Following their addresses, Dr. Yakushiji outlined the SATREPS program, researchers from three collaborative projects with Tuvalu, South Africa, and Bhutan described their projects, and Mr. Taniguchi explained the role of the World Bank.

Explaining the Bhutan project to MEXT Minister Masaharu Nakagawa with a model of the Himalayas
For Tuvalu, Professor Hajime Kayanne (University of Tokyo) described the background and progress of a project in a country that is one of the first to be affected by rising sea levels stemming from global warming. Alongside that global issue, Tuvalu also has urgent local problems with domestic wastewater. The project is the world's first attempt to culture and propagate the foraminifera protozoa that leave behind star-shaped exoskeletons that become sand. Researchers from Japan and Tuvalu hope that their collaboration to develop new ecological technology will result in producing new land for Tuvalu. Responding to a question from Mr. Nakagawa about whether the technology had general application, Prof. Kayanne explained that it could be used worldwide wherever there are atolls, including places like Japan's Okinotori-shima.
For the South Africa project, Tomoki Tozuka (assistant professor, University of Tokyo) described how the project was working on using climate variation predictions from oceanic research to reduce disasters and contribute to agriculture. Collaborative researcher Dr. Willem Landman (South Africa's Council for Scientific and Industrial Research) explained how the project represented the first attempt to couple ocean-atmosphere models to make seasonal forecasts for the African continent. He added that access to Japan's advanced science and technology means that collaborative research is very beneficial for South Africa, and expressed his gratitude for the opportunities afforded by the SATREPS program.
For Bhutan, Go Sato (lecturer, Teikyo Heisei University) explained how the project was evaluating the risk of flooding due to outbursts from glacial lakes, and using the results to produce hazard maps. When Mr. Nakagawa linked this to Bhutan's high Gross National Happiness index, Dr. Sato related how His Majesty the King of Bhutan had invited Japanese nationals to his palace to hold a thousand butter lamp lighting ceremony and offer prayers after the March 11 earthquake in Japan.
Asked about his own involvement in SATREPS, Mr. Nakagawa described how, as Minister of Education, Culture, Sports, Science and Technology, he had gone to observe the selection process, and it had left him impressed at the quality of the program. Regarding the Photo Exhibition, he commented, "it's wonderful to see how the clever combination of the science & technology budget with the ODA budget has enabled research of practical benefit to both countries through these collaborative research projects." He added, "the people I meet at African embassy functions express their appreciation for this approach. It's extremely gratifying to see projects of such practical benefit." He also said that "Japan still only has a small involvement with ODA in regions such as Africa and South America. Considering their needs, I am keen to see the SATREPS program expand further."
*1) A total of 60 SATREPS projects were adopted in years FY2008 to FY2011.
*2) The talk sessions were streamed live on Ustream:
"Culturing Star Sand to Save Tuvalu from Sinking" (October 5 and October 13, 2011)
(Hajime Kayanne, Professor, University of Tokyo)
URL : http://www.ustream.tv/recorded/17690706
URL : http://www.ustream.tv/recorded/17846796
"Using the Earth Simulator to Transform South African Agriculture" (October 6, 2011)
(Keiko Takahashi, Group Leader, JAMSTEC Multiscale Simulation Research Group)
URL : http://www.ustream.tv/recorded/17708113
"Protect Bhutan! Combat Glacial Lake Outburst Flooding" (October 12, 2011)
(Shuji Iwata, Professor, Rikkyo University)
URL : http://www.ustream.tv/recorded/17828532
Photo report of the Photo Exhibition (Japanese)

Photo Exhibition leaflet produced by SATREPS intern (Japanese)

The World Bank Public Information Center in Tokyo (PIC Tokyo)
URL : http://go.worldbank.org/O7K3ASKO90
Official Facebook page
URL : http://ja-jp.facebook.com/Friends.of.SATREPS
"Friends of SATREPS" online community
URL : https://fos.jst.go.jp/
Twitter
URL : http://twitter.com/satreps/
JST, an integrated organization of science and technology in Japan, establishes an infrastructure for the entire process from the creation of knowledge to the return to the society. For more information, visit