SATREPS (Science and Technology Research Partnership for Sustainable Development)
http://www.jst.go.jp/global/english/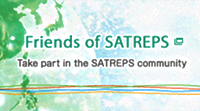 Friends of SATREPS is an online community for people involved in SATREPS projects or with an interest in SATREPS. https://fos.jst.go.jp/

Conversation and discussion was lively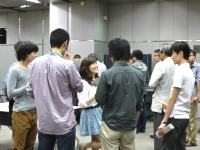 University students found the meeting valuable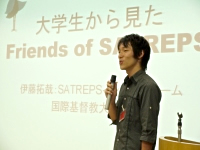 "Friends of SATREPS from a Student's Perspective"—a presentation by a SATREPS intern (university student)
SATREPS is a JST-JICA program that promotes international joint research targeting global issues. Global challenges cannot be met by a single country or region acting on its own, so engagement by the international community is essential. SATREPS works through projects involving partnerships between researchers in Japan and researchers in developing countries, funded by a combination of competitive funds from Japan Science and Technology Agency (JST) and ODA (official development assistance) from the Japan International Cooperation Agency (JICA).
JST launched Friends of SATREPS in June 2011. Friends of SATREPS is an online community that provides a venue where a wide range of people not directly involved in SATREPS projects can join the conversation and take part in the SATREPS community. University and high school students, people involved in development, NGO workers, and others are welcome to register as members and join SATREPS participants in Friends of SATREPS. Direct communication between members with different experiences and with practical knowledge of research issues will enhance the SATREPS program and has the potential to eventually lead to research results that are of real benefit to society.
By mid-August, soon after the launch, Friends of SATREPS had more than 1,000 members. To mark this success, an offline meeting (networking event) was arranged to give members the chance to meet face to face in addition to communicating online. The combination of online and offline contact reinforces Friends of SATREPS, and boosts the value of members' contributions to the SATREPS principle - "For the Earth, For the Next Generation." The first offline meeting was held on September 30 at the JST Hall in the JST Tokyo Headquarters.
Close to 100 people attended the event, including SATREPS project researchers, program committee members, and SATREPS interns (university students).
Interspersed with opportunities to meet and chat, there were brief presentations on the development of the Friends of SATREPS community, hints on how to make good use of its functions and resources, and also presentations by university students who had interned in the JST's Research Partnership for Sustainable Development Division—one entitled "Friends of SATREPS from a Student's Perspective" and another a study concerning a SATREPS project in disaster prevention (Collaboration with Bhutan).
The venue had photo panels due to be displayed as exhibits for the SATREPS Photo Exhibition, and these photos provided a stimulus and focus for conversation between members. The offline meeting appears to have been successful in producing encounters that led to ideas for new research and new projects.

SATREPS intern's perspective on a SATREPS project in disaster prevention (Collaboration with Bhutan)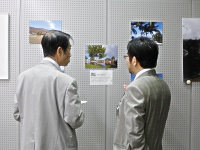 Project photo panels provided a focus for conversation
JST, an integrated organization of science and technology in Japan, establishes an infrastructure for the entire process from the creation of knowledge to the return to the society. For more information, visit