Mr. Takamatsu, Executive Director, during the session lecture

After the session, people with questions crowd around Mr. Takamatsu, Executive Director
The World Conference of Science Journalists brings together under one roof science journalists from all around the world. The conference is held to share mutual experiences, construct networks and to improve the quality of science journalism, among other aims, and is held once every two or three years. The first conference was held in Tokyo in 1992 and so far six have been held in various places throughout the world. This year saw the seventh conference which was held for the first time in the Middle East. There were approximately 720 participants from 90 countries, including African and Arab states. In the various lectures and sessions there were vigorous exchanges of opinion.
The conference was a good chance for the JST to introduce our activities to journalists that had gathered from all over the world, to construct networks with participants and to improve the presence of the JST. The JST held a lunch session and run an exhibition booth.
In the lunch session Mr. Akira Takamatsu, International Affairs Executive Director, gave a presentation on the activities of the JST, focusing on the Science and Technology Research Partnership for Sustainable Development (SATREPS), collaborative research with developing countries, and the promotion of science communication.
In the exhibition booth an overview of the JST, as well as JST efforts in relation to Great East Japan Earthquake and more were introduced to visitors through panels and images. There were a lot of visitors to the booth during the conference. In particular, participants from Africa had a great deal of interest in SATREPS.
Many people learned about the existence of the JST for the first time after stopping by our booth and it became a very beneficial place to inform everyone about the activities and achievements of the JST. We plan to take advantage of the networks that we constructed at this conference and to continue in the future to widely spread the word of the activities of the JST to the world.
Reference URL:
Website of the 7th World Conference of Science Journalists (WCSJ 2011)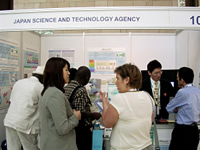 The JST booth is crowded with visitors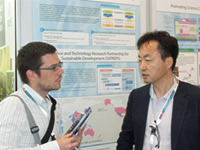 Exchange of opinions about science communication with a visitor to the booth
JST, an integrated organization of science and technology in Japan, establishes an infrastructure for the entire process from the creation of knowledge to the return to the society. For more information, visit