ISGD2010 (the 2nd International Symposium on Graphene Devices: Technology, Physics, and Modeling) was held over the three days spanning October 27-29 at the Research Institute of Electrical Communication (REIC) at Tohoku University, relating to the CREST research theme "Development of Graphene-on-Silicon Material/Device Technologies" (represented by Professor Taiichi Otsuji of REIC) implemented under the CREST research area "Research of Innovative Material and Process for Creation of Next-generation Electronics Devices" (Research Supervisor: Dr. Hisatsune Watanabe, Representative Director and CEO, Semiconductor Leading Edge Technologies, Inc. (SELETE)). This symposium, being a continuation of the previous meeting held at the University of Aizu, went forward as planned with the technical support of the University of Aizu and the University at Buffalo, made possible by grants from JST-CREST and REIC, and having as its theme technology, physics, and modeling related to devices of graphene, a new material that has seen very rapid progress.
19 researchers (including 12 from overseas) active on the front lines of their fields were invited and presented the latest cutting edge research results. A total of 51 presentations were given, including 18 oral presentations (including two given by researchers from abroad) and 14 poster presentations (also including two from abroad). The symposium attracted a total of 90 participants. Deep discussions and information on the current state of cutting edge research in the wide field of graphene-based devices were packed into three days of sessions, including such topics as unique photoelectronic properties of graphene; thermal properties; crystal growth and quality analysis techniques; transistors; optical and electronic devices such as lasers; logic gates; and signal processing devices. Immediately prior to the opening of the symposium, and unexpected opportunity arose with the presentation of the 2010 Nobel Prize in Physics to two researchers in England for their work on graphene devices. Everyone was very excited when a message to the participants contributed to the symposium's sponsors by Nobel laureate Dr. A. Geim was introduced during the opening session.
A total of 19 presenters active on the global front lines of research came as invited speakers-- 12 from overseas including Dr. C. Berger (Georgia Institute of Technology), Dr. A. Ferrari (University of Manchester), and Dr. Y. M. Lin (IBM), and 7 from Japan including Dr. Riichiro Saito (Tohoku University) and Dr. Shintaro Sato (Fujitsu Laboratories and the National Institute of Advanced Industrial Science and Technology). As for the lectures, Dr. C. Berger and Dr. T. Seyller (University of Erlangen-Nuremberg), among others, reported on the state of the latest cutting edge research related to techniques for epitaxial growth on SiC, along with interface control and layer control techniques, as well as transistor devices for use with those materials. Dr. Hiroki Hibino (NTT) and Dr. Masao Nagase (University of Tokushima) presented important research results related to epitaxial graphene crystal structure analysis. Dr. P. Soukiassian (U. Paris-Sud) announced new findings concerning effects on band characteristics caused by graphene/silicon carbide nanostructures and nanodefects. Dr. K. Horn (Fritz-Haber Inst.) gave a detailed explanation of defects in graphene, edges, and the effects of impurities on electronic properties of matter. Regarding transistor technologies, Dr. Y. M. Lin spoke about the state of the latest developments in high-frequency graphene transistors; Dr. Kosuke Nagashio presented on graphene/metal ohmic contact and its effect on transistor characteristics; and, Dr. Shintaro Sato (Fujitsu) spoke about implementation techniques for CVD grown graphene on silicon field effect transistors (FET's) and experimental results concerning the same. Dr. Riichiro Saito introduced the latest research results and new discoveries concerning unique photoelectronic characteristics of graphene and their identification using Raman response. Dr. A. Ferrari reported on supersaturation absorption characteristics using specific photo responses and their application in ultrafast lasers, after reviewing the history of graphene development. All of these presentations were of extremely high quality, extremely encouraging research results, and we were able to gain much knowledge that will inform the performance of the CREST team's research.
The actual CREST team seeks to develop high frequency FET's, logic devices, and plasmon resonant terahertz devices using a characteristic technology for heteroepitaxial growth of graphene on silicon substrates (GOS: graphene on silicon). The team made a total of 16 oral and poster presentations on theory and research results pertaining to such topics as silicon substrate surface orientation dependence of graphene growth, layering, and crystal quality in GOS; workings of top-gated FET's with GOS materials; the world's first theory on GOS-FET complimentary inverters functioning at room temperature; and terahertz stimulated emission from optically pumped graphene. These research results all had wide appeal, and profound discussions were exchanged among many participants.
In the closing session, three students were given Student Paper Awards from among all oral and poster presentations. There were comments from many participants to the effect that they rated this symposium focusing on graphene devices as being highly significant and that there are high expectations for the next symposium. There were also many who said that they highly anticipate and encourage the formation of an international executive committee for the organization of the next event. With that, the symposium was successfully concluded. We think that the next symposium will present an opportunity to further develop exchange and interaction with the foreign research community, to demonstrate initiative in research on graphene devices, and to more proactively promote research and development.
We would like to express our deepest appreciation to everyone at Tohoku University and the Research Institute of Electrical Communication for their cooperation and support for holding this symposium.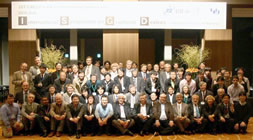 JST, an integrated organization of science and technology in Japan, establishes an infrastructure for the entire process from the creation of knowledge to the return to the society. For more information, visit