As part of the Sakigake (PREST) research theme of "Understanding the formation of epithelial tissue" (PREST researcher: Takashi Miura, assistant professor of the Graduate School of Medicine, Kyoto University) an international symposium entitled "After-Turing: Toward novel mathematical modeling of biological forms" was held at the Kyoto International Conference Center (Number of participants: 120). The symposium was a joint annual meeting held by the Japanese Society of Developmental Biologists and the Asia-pacific developmental biology network.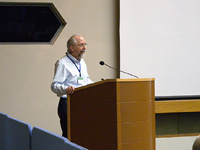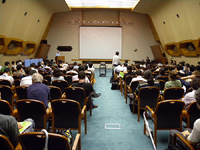 Explanation of the purpose of the meeting by the aforementioned host was then followed by total six invitational lecturers (2 from overseas and 4 from within Japan).
- Professor Shigeru Kondo of Osaka University provided an outline of a model formulated by Turing as an introduction and then presented some experiment data on the stripe patterns of fish that he is currently researching.
- Professor Kazuki Horikawa of Hokkaido University gave a presentation on the formation of segments and slime fungus structures.
- Professor Przemyslaw Prusinkiewicz of the University of Calgary presented the concept of a self-organization model where a plant forms a shoot for use in understanding the various forms of leaves through application of the model. A number of animal researchers were present from the Japanese Society of Developmental Biologists, thus leading to some concerns about the suitability of research on plant morphology. However, various plant forms were optimally presented using simple models that reflected their nature, and which therefore also seemed to be a good example of application of mathematical models in research on animal developmental biology.
- Dr. James Sharpe of CRG Barcelona presented a formation model on the spontaneous patterns of cartilage primordial when four limbs first started to develop. It proved to be an interesting presentation that calculates values for varying forms based on actual measured data: New data that has never been published before and which was very much focused on by the participants.
- Professor Yoh Iwasa of Kyushu University presented some research on modeling of the group genesis phenomenon (formation of segments and branching formation of the kidney) that is being conducted by Kyushu University.
- Professor Hisao Honda of Hyogo University overviewed the history of the establishment of the vertex model that is recently being applied in various fields and described its current status of application.
The recent approach of adopting researchers whose concept is close to this CREST research area, such as involving quantitative organisms, mechanics, mathematical modeling, etc. is taking place in the field of developmental biology as the research strategy has been attached to molecular biology, but is currently rather bogged down. The symposium was held around this trend: The foundation of the new development of the fusion field of embryology and mathematical biology. The symposium collaboratively organized the fields of life models and life systems and provided the virtual seeds of joint research with overseas lecturers through the positive adoption of young researchers from peripheral fields to allow large contributions to be made in the development of the field in the future.
JST, an integrated organization of science and technology in Japan, establishes an infrastructure for the entire process from the creation of knowledge to the return to the society. For more information, visit