The 21st International Conference on Arabidopsis Research was held from June 6 to 10 in 2010 at Pacifico Yokohama. The conference is an international conference held for researchers utilizing Arabiopsis, which is well known as a model plant and the first plant to have had its genome decoded, as a research material. Practically speaking it is one of the most important international plant molecular biology and physiology conferences as most current advanced research on plant science utilizes Arabiopsis but researchers using other research materials than Arabiopsis can also participate in it.

Scene from the concurrent session (Yokohama)

Presentation at the venue of the poster session (Yokohama)
(Two pictures in the upper area: Provided by the ICAR2010 Local Organizing Committee)
The conference was held as the first conference to include joint representation by Kazuo Shinozaki, the director of the Plant Science Center of RIKEN and an advisor in this research area, and Kiyotaka Okada, the director of the Natural Institute for Basic Biology. 1300 cutting-edge researchers, including 700 from overseas, participated in the conference and were involved in active discussions.
Three groups (Yanagisawa, Mimura, and Hirai) involved in the CREST plant research area jointly held a concurrent session on "Metabolism and Systems Biology" at the conference, with five representatives making lectures. Mimura from CREST delivered a lecture on the content of the research area they are currently involved in on the behalf of three other researchers, which was followed by a lecture on plant metabolism made by Dr. Last of Michigan State University and Dr. Kopriva of the John Innes Centre, and then one on cutting-edge research on systems biology made by Dr. Frommer of the Carnegie Institution for Science and Dr. Katagiri of the University of Minnesota, all of whom were invitational lecturers.
About 30 posters on the theme of metabolism and systems biology from Japan and overseas were presented at the poster session that was held at the same time.
We had intended to have invited the supervisor of the CREST research Koichi Suzuki to the session; however, sadly he passed away this April, and hence the three organizers instead dedicated the session to him with the agreement of his bereaved family, the CREST secretariat, and the secretariat of the international conference.
The main conference in Yokohama ended on 10th of June. We then moved on to Kyoto with two invited lecturers where poster sessions were held by some young researchers that belong to CREST participant laboratories entitled the "CREST Plant Metabolism Workshop" and with lectures then being provided by the two invitational lecturers at Campus Plaza Kyoto. The conference at Kyoto was rather informal but very interesting as the younger researchers actively presented 17 posters in English and stimulated some lively discussions taking place.
In closing we wish to express our appreciation to everyone that supported the conference and to wholeheartedly pray for the repose of the soul of Professor Koichi Suzuki who had guided our research for so long.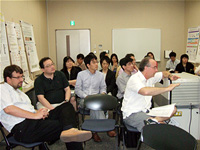 CREST Plant Metabolism Workshop (Kyoto)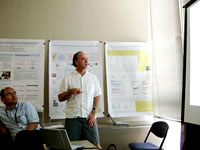 CREST Plant Metabolism Workshop (Kyoto) Lecture being made by Dr. Last
JST, an integrated organization of science and technology in Japan, establishes an infrastructure for the entire process from the creation of knowledge to the return to the society. For more information, visit