The first conference of CREST-SMB international research workshop series of CREST area "Alliance for Breakthrough between Mathematics and Sciences" was held as the 1st CREST-SBM International Conference "Random Media" at the Sendai International Center from Jan.25 (Mon.) through Jan.29 (Fri.), 2010, with Team Motoko Kotani (Tohoku University), research project "A Mathematical Challenge to a New Phase of Material Science Based on Discrete Geometric Analysis" playing a central role.
Following the initial briefing on JST and CREST by Director Osamu Ichimaru of JST, Yasumasa Nishiura, Research Director, explained the purpose of getting researchers from mathematical fields deepen their understanding of issues facing the humans from an international perspective and to solve them, along with many state-of-the-art researchers through the CREST-SBM international workshops, as well as presenting specific examples of mathematics leading to the understanding of natural/social phenomena.
This was followed by 29 lectures (13 from overseas and 16 from Japan) and 7 poster presentations (1 from overseas and 6 from Japan). There were 8 lectures including poster presentations by people related to CREST/PRESTO. There were highly-motivated presentations by well-known, mid-level and young researchers who are leading many researches.
Information: http://www.officepolaris.co.jp/randommedia/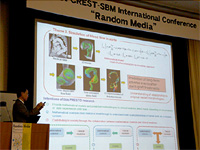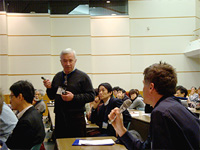 There were 131 participants (98 from Japan, and others from the U.S., England, Israel, Italy, Switzerland, Taiwan, China, Germany, France, Vietnam and Poland), and although most of them were people related to mathematics, there were participants from a very wide area of research. In particular, a special session on "Proposals in Seeking for Advanced Functional Materials" was held, where experimental scientists from material science/physics/chemistry gave proposal lectures for mathematics, and many active discussions were held during the questions and answers period after the lectures, and during the break time.
The CREST-SBM International Conference will publish the collection of abstracts throughout the series.

Collection of abstracts

Poster
JST, an integrated organization of science and technology in Japan, establishes an infrastructure for the entire process from the creation of knowledge to the return to the society. For more information, visit