JST Event Report
January 19th-20th, 2009, Tokyo(Japan)
Japan Science and Technology Agency (JST)

Japan-Denmark Joint Workshop on "Molecular Cancer Research"
JST, together with Danish Agency for Science Technology and Innovation (DASTI), held a workshop on "Molecular Cancer Research". 20 researchers from Japan and Denmark made a presentation on their latest research activities at the occasion and a lively discussion took place.
This workshop was orgnized under the framework of JST's "Strategic International Cooperative Programme"
for the purpose of stimulating a research activities between the 2 countries. As the participants enthusiasm for a collaboration arised, it is expected that a new research collaboration starts.
For further information on this workshop including its program, etc, please refer to our website below(Japanese)
If you wish to obtain a workshop handout, please contact below

Department of International Affais Tel:03-5214-7375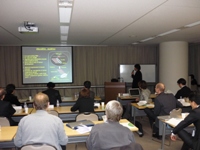 ---
JST, an integrated organization of science and technology in Japan, establishes an infrastructure for the entire process from the creation of knowledge to the return to the society. For more information, visit
http://www.jst.go.jp/EN/