AIST Open Lab 2013
Special lecture by Prof.Konagai
"FUTURE-PV Innovation" Project exhibited panels in "AIST Open Lab 2013" held at AIST Tsukuba Central in Tsukuba city, Ibaraki Prefecture from October 31 to November 1 in 2013. It was hosted by the National Institute of Advanced Industrial Science and Technology (AIST).
The special exhibition was provided on the opening of the Fukushima Renewable Energy Institute in Koriyama, Fukushima Prefecture, in April, 2014 . Since "FUTURE-PV Innovation" project has cooperative relationship with this new institute, JST hosted the panel booth in this special exhibition area where visitor could learn the outline of the innovative silicon nanowire solar cell research and development. The special exhibition was highly rated by visitors for the leading-edge research of solar cells and crossministerial collaboration to support the inclusive research and development process from the basic research to its practical applications.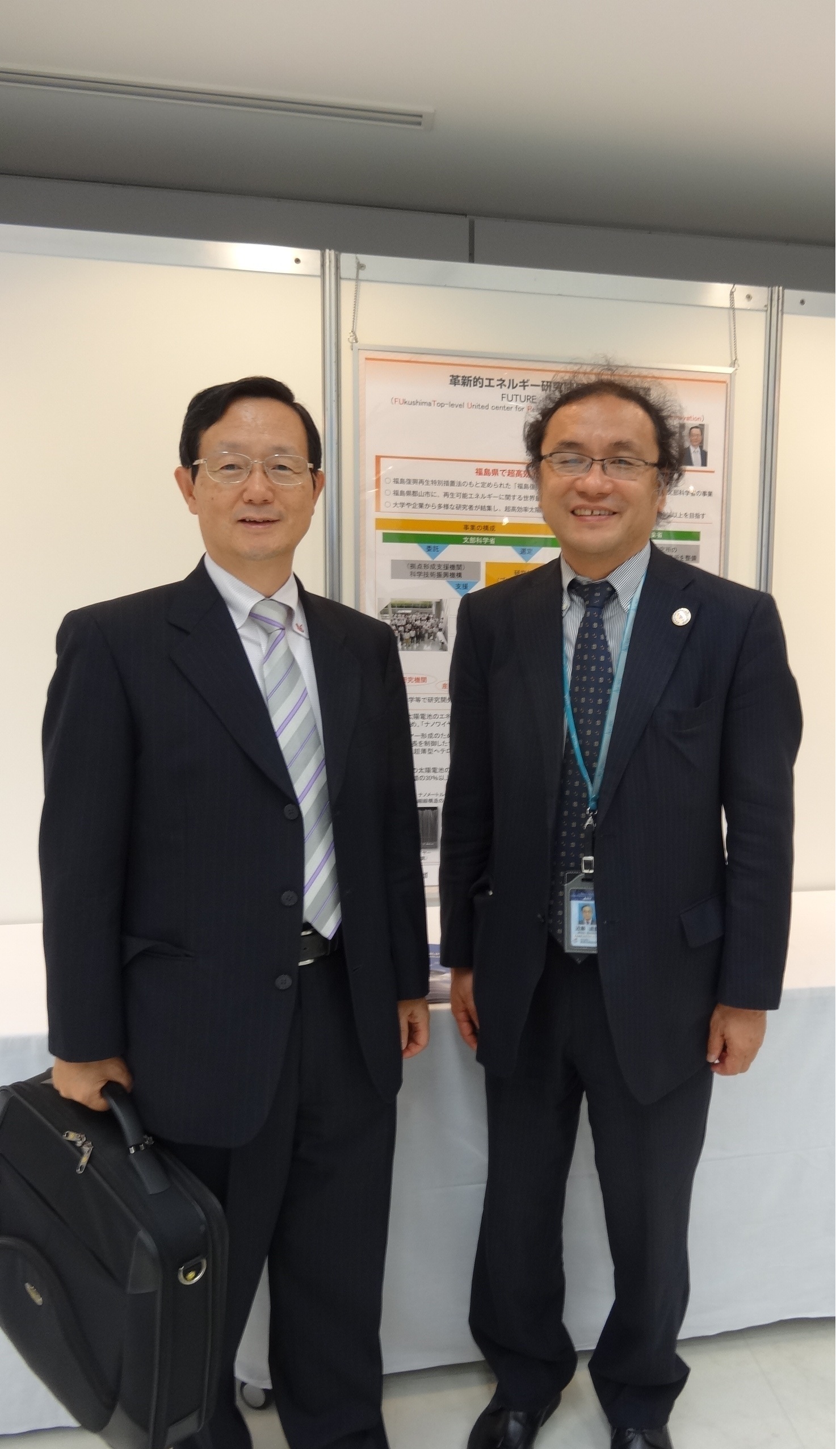 Prof. Konagai, the research director and
 Dr. Michio Kondo, Deputy Director-General,
 Fukushima Renewable Energy Institute, AIST
On November 1 was presented the special lecture titled "Construction of the R&D site to promote innovative solar cells" by Prof. Konagai, our research director, in which he introduced the mission and outline of "FUTURE-PV Innovation" project. In this speech he pointed out that the day will soon come when the world energy demands on the solar cells become over Tera-Watt and that we inevitably need to find more effective solar cell resolutions to fulfil the massive demand. The current energy conversion efficiency remains unchanged at 25%, dating as far back as 10 years ago, which has hampered the effective use of the solar energy. In the light of this, he set the goal for this project to realize 30% energy conversion efficiency through the innovative R&D with the band gap control utilizing the nano-wire structure combined with the tandem structure technology.
We jointly continue to work with Fukushima Renewable Energy Institute, AIST so that we will expand on-going efforts to ensure the realization of innovative renewal energy research base.