During emergency situations such a natural or man-made disaster, rapid responses by social infrastructure are essential in order to minimize damage. "24 hours responsibility under all-weather condition", " quick response", "responsibility for wide area disaster" and " simultaneous observation capability for surrounding region" are surely required for the satellite observation system to be beneficial as reliable social infrastructure. This program develops Small Synthetic Aperture Radar (SAR) satellite system capable of on-demand launching and quick observation. The new approach of SAR design "Deployable and Passive Slot Array Antenna System" is selected in this program and it realizes an ultra-lightweight and highly compact, 100kg-class, satellite system with 1m-class spatial resolution SAR sensor. Considering future business prospects, the mass production cost around 2 billion yen is targeted in this program, which will be one-tenth of conventional systems. Our aimed system enables" all-time and all-point observation" in whole world several ten minutes to several hours after launching under all condition, even at night and under rainy/cloudy/stormy weather.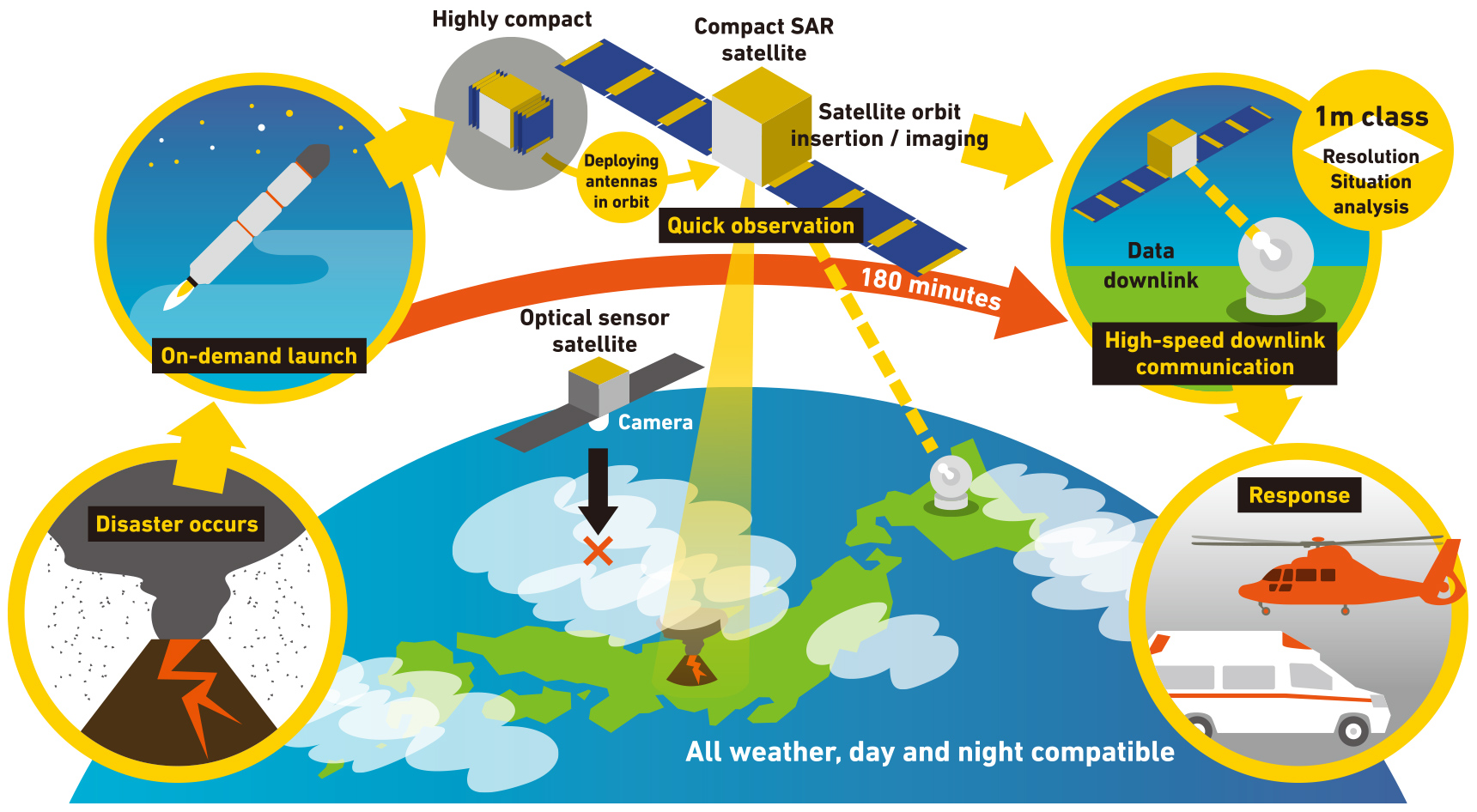 Keys to the breakthrough
There are two points needed for major breakthroughs:
To realize achieve the compact SAR, selection of a third approach rather than the two major methods used worldwide (active phased array antenna system approach and parabola antenna system approach) to achieve the world's most lightweight, most compact SAR system.
To realize achieve instant, on-demand observations, achievement of an fully automated operation process from separation, observation to downlink through photography, control through autonomous on-board decision-making that includes responding to abnormalities, and high-speed data communication system that completes the downlink of observation data in a single pass.
The University of Tokyo was selected as the research and development institution for the Satellite System Project, as an institution capable of developing a satellite bus that would not involve high costs and would not be bound by conventional satellite development approaches with respect to reliability, and to serve as the contracted research organization that will lead research and development of on-demand functions (automation and autonomy) and satellite bus equipment.
JAXA and Tokyo Institute of Technology were selected as the contracted research institutions for the SAR System Project. These are the only institutions in the world that have presented approaches to resolving the issues of compactness of SAR system and weight reduction and miniaturization.
Keio University was established for the Integrated System Project as an institution with a thorough understanding of satellite systems and one that can coordinate with the diverse presumed users and organize these systems into a platform, and can also conduct research into evaluation systems.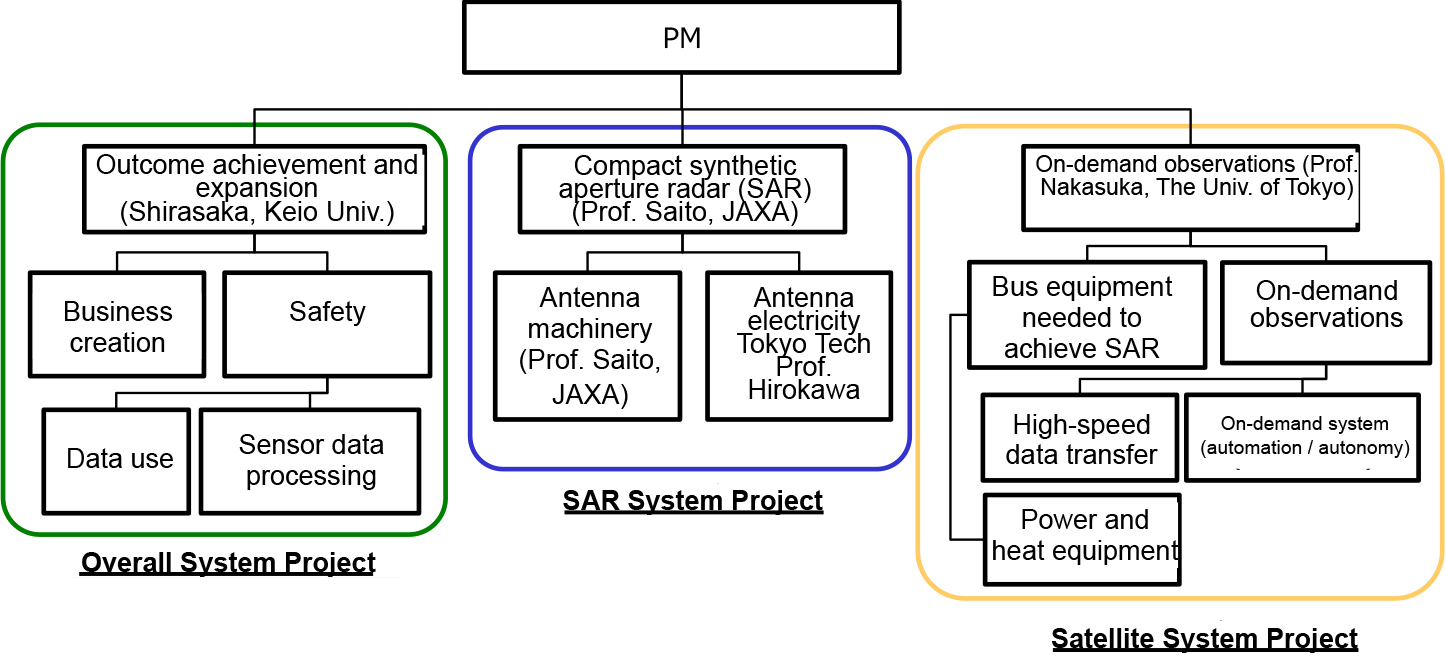 Organization
The Cabinet Office
ImPACT: Small Synthetic Aperture Radar (SAR) Satellite System for On-Demand Observations
Seiko Shirasaka
Associate Program Manager
Shinobu Nakamura
Associate Program Manager
Etsuo Maeda
Associate Program Manager
Daichi Okuno
Associate Program Manager
Shigeki Kageyama