Virtual Research Institute - Flexible and Functional Organization
In ERATO, in order to tackle a creative and challenging research project, "a Virtual Research Institute" is organized under the leadership of a research director, and collaboratively managed by JST and a research institution. This "JST-Institution Collaboration Framework" is uniquely established recently for ERATO, and different from typical contract based research.
In this collaboration framework, the research institution carries out the actual research tasks as well as research administration tasks. JST, on the other hand, gets involved in overall project planning, project bring up operations and on going project management.
The following five points are features of the ERATO program.
The first three are uniquely related to the "Collaboration Framework."
JST commissions a Research Director for each project accepted by JST as a ERATO project. The director will be responsible to manage the entire research as a staff of JST (while maintaining his/her position in the institution where they are also employed) .

The research director establishes a new research facility independent from the existing ones.

Besides research groups with researchers, the project headquarter (HQ) office is setup with research administrators for project planning, administration, and project management work.

Recruit best-in-class researchers from various fields, to encourage interdisciplinary research.

The group forms a Virtual Research Institute which is temporal. The institute will be dissolved at the end of the research project.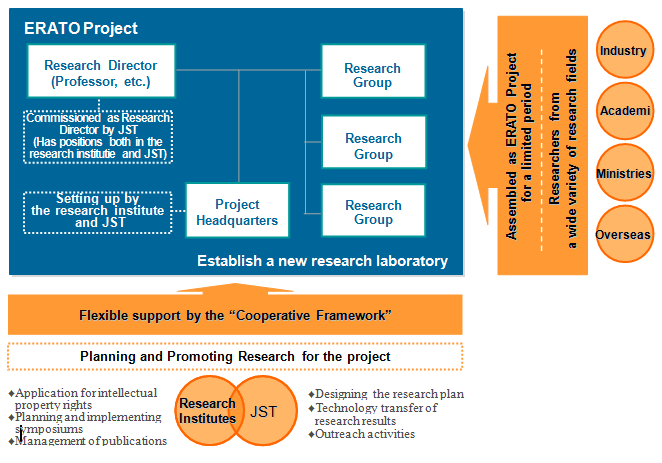 Making the most of research period
In order to best utilize the unique features of ERATO and maximize the breakthrough discoveries and innovations from each project, as a trial, the program is currently allowing up to one year for a project bring-up work before the official start of the project, and for those exceptional projects, additional years of grant (up to five years) will be provided.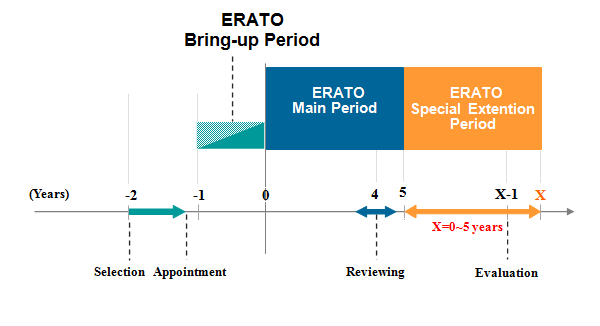 The bring-up period
In ERATO program, each new project will start with the new research facilities, the new team of researchers, and the new organization. Getting the new team, facilities, and organization require some time, effort, and money. We allow up to one year of bring-up period (typically a half year), as a trial, so that when the project starts officially, they can run at full speed from the beginning.
The special extension period
After completing five years of research, some projects may have outstanding outcomes and be considered worth providing an extra grant to further pursue the research work. The extra grant can be provided for up to five additional years, making the total project period to ten years. The purpose of this extension period is to pursue the opportunity to become the world leader in the new and exciting given field, leading to the deployment of new discoveries and accomplishments to other researchers and engineers.