Objectives
To create seeds for new technology and/or create a new and exciting trend in research field.
Research Type
Targets basic researches to achieve the strategic sectors set by the national science and technology policy as well as the social and economic needs of that period.
Research Management
The each project is managed by a research director as a project manager and both JST as well as a research institution to which a research director belongs get involved in day-to-day management of research operations. It is a unique collaboration style between JST and a research institution.
Researchers
We gather the best researchers for each project from academic, industry, and government sectors, including those from overseas.
Research Period
The research period is five years.
In addition to the normal five year period, up to one year can be allowed for the project bring up, and for an exceptional research, additional years (up to five years) of grant will also be provided.
Organization
In order to drive the research project efficiently, researchers and research administrators work at a research site together with the research director. The project team consists of several research groups and the project headquarter office for the research administration work.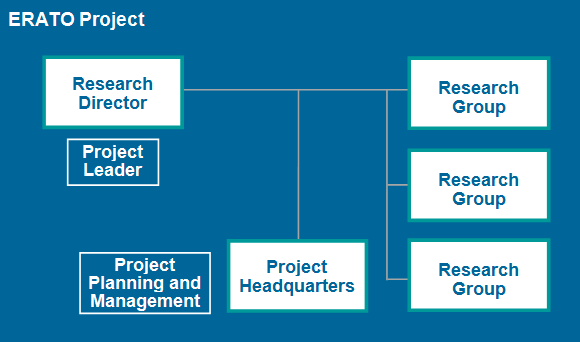 Budget
The budget is proposed by the research director via a research plan, and approved by the ERATO Program Director of JST with modifications as needed.
Research Facilities
We make sure that ERATO research facilities are secured independently from existing facilities used by researchers for other projects.
Research Accomplishments
The research accomplishments are actively released to the public, via means of press release, presentations at academic conferences, outreach activities, etc., and we encourage aggressive application for intellectual property rights.