Home > About JST > Greetings from the president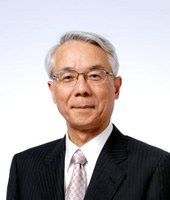 NAKAMURA Michiharu, D.Sc.
President
Japan Science and Technology Agency
There were several significant developments to have left a deep impression on me in 2012 including the efforts of the Japanese Olympic team in London, and the news that Dr. Shinya Yamanaka of Kyoto University was awarded the Nobel Prize in Physiology or Medicine. Having been longtime supporters of Dr. Yamanaka's research, we at JST have been delighted to witness the deserved recognition he's received both within Japan as well as globally.
However, there are also many pressing issues Japan must address. That is why we must embrace both our successes and the challenges which await us, as we walk toward the future.
Toward Innovation Creation
For the future of society, we must focus on the continuing revitalization from the Great East Japan Earthquake, concerns regarding energy and the environment, as well as topics surrounding health and medical care. Researchers and those within the science and technology, economic, political and educational fields as well as the public must work hand-in-hand for socioeconomic advancement, and JST will communicate these policies and goals by providing new science and technology .
Projects and research should also be based and built upon some kind of clear overall vision, which is why I hope JST can help build an "Innovation Ecosystem" in the upcoming years. I believe that this can become the driving force behind our strategic plan to combine and integrate various research and projects into one program for the benefit of not only the researchers, but everyone.
JST Innovation Creation Strategies
Firstly, we will continue our support of cutting-edge technologies and sciences born in Japan. In addition to Dr. Yamanaka's research on induced pluripotent stem (iPS) cells there is Dr. Hideo Hosono's work in material technology, which will contribute to opening new horizons in electronics and chemistry, as well as Dr. Hiroyuki Mano's research in developing drugs by unraveling the mechanism of incurable cancers. We will continue to encourage research in the development of advanced measurement and analysis systems which are industry and global standard. The New Mass Microscope developed by the Hamamatsu University School of Medicine and HORIBA, Ltd. is an example. While ground breaking research can take time to develop, they are also the kinds of projects which are connected to major innovation. One of our major challenges is also to promote seamless approaches from basic research to innovation.
Regarding the international stage, the age of dominance led by several countries including Japan in advanced technologies is ending. Recognizing this changing landscape, JST is putting substantial effort into creating a strategic global innovation ecosystem. JST is already involved in international collaborative research efforts including starting up the e-ASIA Joint Research Program and working with JICA (Japan International Cooperation Agency) to enhance SATREPS (Science and Technology Research Partnership for Sustainable Development), through which we have strengthened our relationships with various countries. We also hope to further create opportunities for both Japanese and foreign researchers to work with one another.
Also, both JSPS (Japan Society for the Promotion of Science) and JST are participating in the Global Research Council, which is comprised of the leaders of public science funding agencies around the world. This year, we are planning on discussing science integrity as well as open data access. Through these efforts to actively participate in the expansion of a global ecosystem, we hope to improve and grow as a funding organization.
In addition to R&D funding, JST will play a large role in providing innovation platforms. An example is large scale scientific databases such as the "Life Science Database," that will be of great importance in future R&D.
Another activity is our continued support and promotion of the sciences at various levels throughout the educational system. To nurture and cultivate the next generation of scientists and mathematicians, we plan to create opportunities for international exchanges and other educational avenues for promising students to take advantage of. This includes support for schools designated as Super Science High Schools, and nationwide competitions for secondary school students in the areas of science and math . Continuing to have individuals become globally recognized for their efforts will also help pave the way for aspiring researchers in the future.
Finally, we will design methods and schemes for the purpose of science communication that will allow both researchers and the public to work together to plan our shared future. Ultimately how we utilize technology is a decision to be made by everybody, which underlies this initiative's vast importance.
We are confident that with a strong framework of teamwork and dedication, we can make the world a better place through the promotion and realization of these initiatives in 2013. We appreciate your continued support of JST's activities and efforts.
Japan Science and Technology Agency
President
NAKAMURA Michiharu