Home > About JST > Greetings from the president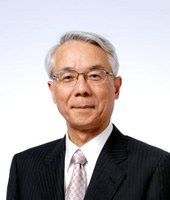 NAKAMURA Michiharu, D.Sc.
President
Japan Science and Technology Agency
The era of mega-competition in science and technology
In the 1980s, after becoming a major economic power, Japan sought to become a research and development frontrunner, which has led to strong performances at the Nobel Prize level. The 1995 establishment of the Basic Law on Science and Technology linked Japanís prosperity even more closely with science and technology.
Worldwide, science and technology policy is being developed and R&D competition is waged fiercely, both in developed countries and emerging economies. The era of mega-competition in science and technology has arrived.
Given these circumstances, and with a view to the near future, Japan seeks to create new value based on innovative science and technology and to contribute to the sustained development of human society, ensuring Japanís competitiveness.
To this end, a convincing national science and technology strategy is essential for Japan, but Japan must also accelerate practical reform in the field to generate innovation.
Initiatives toward creation of innovation
To further scientific and technological innovation, JST operates virtual network-based research institutions, along with information dissemination services, next-generation human resource development, and science communication to create a great foundation for innovation. JSTís unparalleled commitment and efforts to create comprehensive interdisciplinary links have received high praise worldwide.
By keeping the focus on sciences and technologies and emphasizing integration with the humanities and social sciences, JST encourages new technology trends through basic research excellence to create innovation that delivers high impact on society.
However, from the point of view of strengthening Japanís capacity for scientific and technological innovation and improving its world ranking, some limits of JSTís conventional systems have become evident. For this reason, we are undertaking a variety of reforms.
Maximizing strategic basic research results
To realize a sustainable society, we are tackling the development of innovative low-carbon technologies in conjunction with government agencies, and embarking on large-scale projects including high-efficiency solar power technology, next-generation battery technology, energy carriers, and elemental strategies.
In addition, JST has commenced ďResearch Center Network for Realization of Regenerative Medicine.Ē
JSTís programs such as CREST, PRESTO, and ERATO are leading the world in research excellence. Great developments are expected in the future with the start of the ACCEL program, which aims to accelerate innovation-oriented research.
Construction of an innovation platform
The COI (Center of Innovation) will commence this fall as a meeting place for outstanding technology seeds and the future visions of society.
Here, future-oriented research and development themes will be decided, with its university, government, and corporate members uniting to overcome interdisciplinary challenges. We aim to create a one-stop research and development center tackling basic research through to bringing new products and services to market and establishing venture business on a constant basis.
Responding to globalization
To augment its bilateral and joint research exchanges, JST launched the e-ASIA JRP (a joint research scheme among the East Asia Summit member countries) to promote multilateral research.
JST also participates in the Belmont Forum (an international meeting of funding agencies), and it is considering joining the integrated global environmental change research program Future Earth. JST is active in promoting discussions with overseas partners with a view to enhancing global R&D cooperation.
Strategic use of university intellectual property
With the Japanese version of the Bayh-Dole Act enacted in 1999, intellectual property strategy was left up to individual universities, which led to a greater number of intellectual property licenses held by universities; however, this did not necessarily improve the quality or the strategic application of patents.
JSTís intellectual property strategy committee has produced a proposal outlining future directions for university intellectual property strategy. JST is committed to offering strong support for university intellectual property.
Efforts to accelerate industrialization
To industrialize the results of industry-university joint development, JST has been operating a commissioned development system since its Research Development Corporation days.
Under emergency economic measures in the supplementary budget last year, JST is applying this mechanism to support industry in meeting the challenges of high-risk development themes.
This program is now implementing large-scale developments never before handled by JSTówe hope that industry can commit to bold new challenges based on the seeds of scientific research in academia.
Open access to research results
To increase R&D efficiency, the Open Access Policy actively promotes access to research papers (as outlined at http://www.jst.go.jp/pr/intro/pdf/policy_openaccess.pdf), thus gaining the understanding of stakeholders (including researchers). This has commenced for CREST and PRESTO applications.
Conclusion
Research and development does not always proceed smoothly, but if we can help the researchers striving daily to embrace lofty ideals, we will improve Japanís competitiveness and achieve a more sustainable society. It is essential to move beyond single organizations to emphasize open global initiatives.
JST is committed to its dynamic role as a catalyst in constructing an ecosystem to give birth to future innovation.
Japan Science and Technology Agency
President
NAKAMURA Michiharu